London 2012 ticket payments 'on track' for Tuesday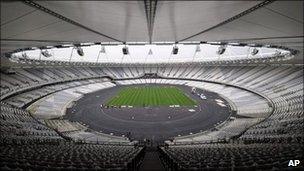 Card payments for London 2012 tickets are on schedule to be completed next Tuesday, meaning the end of weeks of waiting for Olympic fans.
A London 2012 (Locog) spokeswoman said they were "very much on track" to have processed all straightforward card payments by midnight on 31 May.
However she said Locog could not confirm reports that half the 1.8 million applicants would get nothing.
There were 20 million applications for the 6.6 million available tickets.
Popular events have been many-times oversubscribed with the men's 100m final receiving a million requests for just 20,000 seats.
Many fans applied for a range of tickets in the hope of getting some of their order.
But the ticket system, which has been criticised by consumer group Which?, is set up to take the cash from buyers' accounts before they know which tickets they have been allocated.
This means that many successful applicants are now trying to work out which events they will be going to see, whereas those who have not had payment taken are wondering if they will end up empty-handed.
Locog has said it will confirm people's allocation by 24 June, once the payment process is over.
Hundreds of people have contacted the BBC's Sports News Correspondent James Pearce on Twitter to share their frustration at the process.
Of those who had been successful, few had received their full order.
One successful applicant Greg Mailer wrote: "120 sessions(340 tickets) applied for between 6 family members.Looks like 9 sessions(14 tickets)won"
Another, KJTweetster, wrote: "BREAKING NEWS money has left the account, can only think its 2012 tickets, unfortunately only £148 out of £1,500 applied for!"
But others are gloomy about their chances of getting any first round tickets:
James Porter wrote: "I'm 0 out of 160 tickets over 2 applications including water polo and hockey - gutted"
The second round of sales, in late June, will initially offer unsuccessful first round ticket applicants the first chance to buy those tickets still available, said the organising committee.
It will take place on a 'first come, first served' basis with the money paid up front.
The general public will later be able to apply for remaining tickets.
London 2012 is looking to make £500m from ticket sales as part of bid to raise £2bn through private means.
The price of Olympics tickets ranges from £20 to £725 for the showpiece 100 metres final, and reaches £2,012 for the opening ceremony on 27 July.
Related Internet Links
The BBC is not responsible for the content of external sites.