Newspaper review: Views given on Baby P decision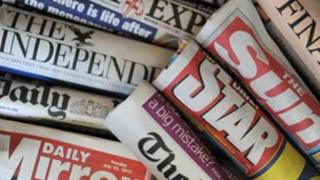 Sharon Shoesmith, former director of children's services in Haringey, tells the Guardian that "justice, not money" motivated her during her legal battle.
It culminated in an appeal court ruling that she was unlawfully dismissed after the death of Baby Peter Connelly.
The paper believes "it is unlikely she would have remained long in her post" had proper procedures been followed.
The Sun says she pursued her legal claim "with a zeal that was woefully lacking" from her department.
'Beggars belief'
"If only she'd fought as hard for children as she did for herself", the Daily Mail says of Sharon Shoesmith's victory in the Court of Appeal.
The Daily Express says it "beggars belief" that she could now receive compensation of up to £1m.
The Independent acknowledges "this will not be a popular decision".
But the paper says the court upheld the principle that any accused person deserves a fair hearing - and every employee should find that reassuring.
Plastic purchases
The Daily Telegraph has used Freedom of Information laws to obtain details of how much council staff and councillors have spent on credit cards.
According to the paper, just under 200 councils across Britain paid out more than £40m between them on the plastic over the past three years.
Some was on dinners at Michelin-starred restaurants, trips abroad, and gifts such as jewellery from Tiffany.
The paper says it is nothing short of a "scandal".
Sporting figurehead
Both candidates for president of world football's governing body Fifa are now facing corruption investigations.
And the Guardian believes it would be "shameful" if the election goes ahead as scheduled next week.
The Times agrees - and says Fifa needs a figurehead to embody a new commitment to transparency and openness.
Among those worthy of serious consideration are Jurgen Klinsmann, Franz Beckenbauer and Arsenal manager Arsene Wenger, the paper suggests.