East Coast Main Line train services face further delays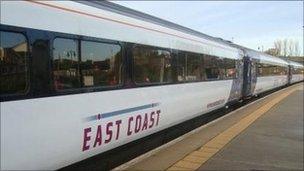 Trains on the East Coast Main Line are facing further delays just hours after services resumed following major disruption for thousands of passengers.
Trains were unable to run between Peterborough and Grantham on Saturday, with 70 out of 102 services between London and Inverness affected.
Normal services resumed earlier but more overhead wire problems have led to delays of up to an hour on some trains.
The problems near York affected trains between London, Leeds and Edinburgh.
Engineers fixed Saturday's problem overnight and services resumed at 0830 BST but there have been knock-on effects.
Three trains from Edinburgh to London King's Cross have been cancelled.
Government-owned rail company East Coast said three trains had been "stuck" in the south earlier, causing the cancellation of the three services from Edinburgh.
"We are expecting large numbers of people on Sunday but we will do our best to make sure people get to where they need to be," a spokeswoman said.
"There should be no knock-on effects on bank holiday Monday. If nothing else goes wrong, the timetable will be as published."
She added that Network Rail, which is responsible for rail infrastructure, had not yet discovered what caused the cable damage.
About 200 metres of overhead equipment was damaged between Stamford and Grantham, affecting all four lines on the route.
The problem caused massive disruption, with passengers reporting chaotic scenes at stations.
East Coast runs trains between London King's Cross, the East Midlands, Yorkshire, North East of England and Scotland.
It operates 155 services on weekdays, 102 on Saturdays and 99 on Sundays.
Related Internet Links
The BBC is not responsible for the content of external sites.