Newspaper review: Twitter and Camerons make front pages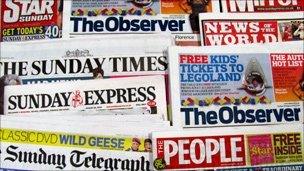 The Sunday papers offer a mixed news bag, with no single story hogging the front pages.
It says the Queen discussed potential implications for the monarchy in a private meeting with David Cameron.
The paper says a group of councillors and one council official from South Tyneside are pursuing a libel action over comments posted on the site.
It suggests the decision may lead to a "flood" of similar requests from lawyers in cases involving allegations of libel or injunction breaches.
Twitter has not responded to the claim.
An investigation by the paper has found cigarette sales are increasing, despite consumption falling in the West.
The paper highlights what it says are the "extortionate" fees charged by banks for foreign currency and travel insurance.
Several papers reveal that David Cameron's wife, Samantha, has been seen at an open-air rave while on holiday on the island of Ibiza.
Related Internet Links
The BBC is not responsible for the content of external sites.