Newspaper review: Twitter and Camerons make front pages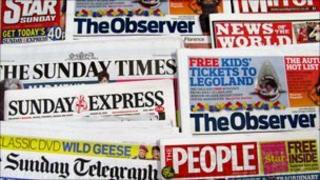 The Sunday papers offer a mixed news bag, with no single story hogging the front pages.
The Sunday Times says Buckingham Palace has asked Downing Street to consult a constitutional expert on the prospect of Scotland breaking away from the UK.
It says the Queen discussed potential implications for the monarchy in a private meeting with David Cameron.
The Sunday Mirror has a story about secret papers found at Osama bin Laden's hideout in Pakistan, suggesting one of his trusted allies, Mullah Abdul Barabar, revealed his location to US forces.
Libel action
There is a claim in the Sunday Telegraph that Twitter has handed over confidential details of four UK account holders to comply with a court ruling.
The paper says a group of councillors and one council official from South Tyneside are pursuing a libel action over comments posted on the site.
It suggests the decision may lead to a "flood" of similar requests from lawyers in cases involving allegations of libel or injunction breaches.
Twitter has not responded to the claim.
'Extortionate'
"The unstoppable march of the tobacco giants" is the front page headline in the Independent on Sunday, alongside a sobering photograph of a child smoking.
An investigation by the paper has found cigarette sales are increasing, despite consumption falling in the West.
"Banks grab holiday cash" asserts the Sunday Express.
The paper highlights what it says are the "extortionate" fees charged by banks for foreign currency and travel insurance.
Rave on
Several papers reveal that David Cameron's wife, Samantha, has been seen at an open-air rave while on holiday on the island of Ibiza.
The Sunday Telegraph says she showed "how a modern Downing Street wife likes to let her hair down".
"Mingling with music fans clutching lasers and whistles", as the People puts it.
However, the Sunday Times points out it is unclear whether Mrs Cameron actually made it to the dance floor.