Newspaper review: Focus on Fifa and bribery claims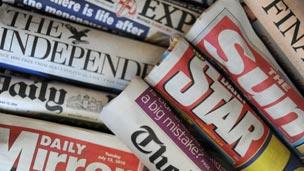 Many of the papers turn their attention to football's governing body Fifa which is embroiled in bribery allegations.
Sam Alexander's father, Stuart, writes that "the call, when it comes, is so stunning that everything goes numb".
Sales of mothballs and sprays are said to have doubled and even the Department for the Environment has had to fumigate its headquarters in Westminster.
The paper describes the findings of the International Energy Agency as "grim."
What the Times judges to have been "one of the most bitter feuds in modern literature" would appear to be over.
After "fifteen years of venomous accusations," it says, Paul Theroux and Sir VS Naipaul have shaken hands.
Related Internet Links
The BBC is not responsible for the content of external sites.