Olympics ticket deadline for card payments passes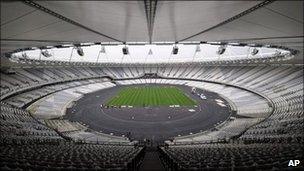 Millions of people who applied for London 2012 tickets should now know if they have been successful.
Olympics organisers said they were on track to hit the deadline to debit accounts by midnight on Tuesday.
They will then be contacting people whose cards have failed until 10 June, and people will be told which tickets they have been allocated by 24 June.
There were 20 million applications for the 6.6 million tickets available to the public via a controversial ballot.
The system takes money from buyers' accounts before they know which tickets they have been allocated.
Many successful applicants are now trying to guess which events they will be going to see, whereas those who have not had payment taken are wondering if they will end up empty-handed.
Some 1.8 million people applied for the tickets, requesting an average 11 tickets each to make a total of 20 million ticket applications.
Popular events have been many-times oversubscribed, with the men's 100m final receiving one million requests for just 20,000 seats.
A second round of sales, in late June, will initially offer unsuccessful first-round ticket applicants the first chance to buy those tickets still available.
It will take place on a first-come, first-served basis with the money paid up front.
The general public will later be able to apply for remaining tickets.
A London 2012 spokesman said: "Applicants who have been unsuccessful and have got nothing in the first round will get priority in the second round.
"The reality is that many people will not be lucky the first time around but they will get priority for the second round.
"There have been 20 million applications for tickets and many events have been oversubscribed, so there will be some people who will not get any in the first round but they will get something in the second round."
The prices range from £50 to £725 for the showpiece 100 metres final, and reach £2,012 for the opening ceremony on 27 July.
Even Olympic athletes have been on a knife-edge, waiting to hear if their families have secured tickets.
Diver Tom Daley said on Twitter: "Mum had the money taken from the bank for the Olympic tickets! But only 1/4 of what she wanted! I hope my family get tickets to watch me!!!!"
His tweet prompted disbelieving responses, including this from Bethani Fraser : "The way Tom Daley's mum even has to hope that the 1/4 tickets she's been given is to see her son perform, crazy!"
Also on Twitter, cyclist Bradley Wiggins revealed: "No olympic tickets for the wife and kids to watch Team Pursuit, oh well sorry kids going to have to watch dad on the telly!"
But Tim Fuell, 36, from Hillingdon, west London, hit the jackpot . His only application was for four tickets for the blue riband event of the Olympic Games, the men's 100m final, and he was successful.
In total, 8.8 million tickets are available for the Games - about half of the remaining 2.2 million tickets not available to the public have been issued to national Olympic committees, with the other half split between sponsors, the International Olympic Committee, guests and hospitality partners.
London 2012 is looking to make £500m from ticket sales as part of bid to raise £2bn through private means.
A further two million tickets will be available for the Paralympic Games. They go on sale later this year.
Meanwhile, the government has been urged to explain why it has bought 9,000 tickets for the Games.
Labour MP Ian Austin is pressing ministers to clarify who will receive the tickets and for what events.
Officials said 3,000 people who had helped in staging 2012 would pay face value for the tickets while others would go to dignitaries and VIPs as part of efforts to "showcase" the UK.
London boroughs will be given £50,000 each to decorate their streets with flags, banners and bunting for the Games.
The funds will be provided by the Mayor of London's office to help spread the "look and feel" of the Olympics.
Was your application for tickets successful? What has been your experience of the application process? Get in touch below:
Related Internet Links
The BBC is not responsible for the content of external sites.