Newspaper review: Future of care comes into focus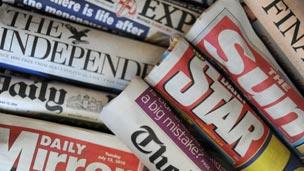 The Financial Times says private care homes in Britain are facing a "deepening crisis".
In a detailed investigation across two pages, what emerges is a picture of an industry that has been badly hit by the shocks to the global financial system.
The paper says there is evidence that the sector provides worse quality care than their non-profit rivals.
A Care Quality Commission inspector tells the FT "it's now got to a point of being dangerous for residents".
The Daily Telegraph covers a review commissioned by the government into how to pay for the rising costs of caring for the elderly and disabled adults.
The paper says the report is expected to recommend a funding "partnership" between the Treasury and individuals.
The Daily Mail says taxes look set to rise so people are no longer forced to sell their homes to pay for "unlimited charges" for care.
An individual's contribution could be capped at £50,000.
The front pages of the Daily Star, the Sun, and the Daily Mirror illustrate the crisis at football's world governing body Fifa.
They all have the photo of $40,000 in "crisp" $100 bills beside a brown envelope marked "Bahamas".
"Bung to rights" is the headline in the Mirror and the Star.
Money was allegedly offered to the Bahamas FA by Mohamed Bin Hammam to help his bid to become Fifa's next president. He denies any wrongdoing.
The Times claims to have carried out a "unique survey" of peers.
The poll suggests that an overwhelming majority of them believe the government would be acting unconstitutionally by creating an elected upper chamber.
Lt Gen James Bucknall said it risked sending mixed messages that could encourage the Taliban.
Related Internet Links
The BBC is not responsible for the content of external sites.