Volcanic ash scientist appointed by government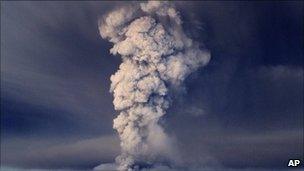 The government has appointed its chief scientist to oversee the UK's reaction to any future volcanic ash clouds.
Professor Sir John Beddington is to head a peer review group that will analyse sources of data on ash concentrations.
Transport Secretary Philip Hammond said this would establish how best to update the model used by the Met Office to predict ash cloud movements.
The model's accuracy was criticised during an Icelandic eruption last week.
Thousands of passengers were affected by an ash cloud from the erupting Icelandic volcano Grimsvotn last week, with airlines such as Ryanair criticising the predictions and calling for less restrictions for aircraft travel during ash incidents.
During the eruption last week restrictions were placed on flights over Scotland as that was where authorities judged the highest density ash to be.
But Ryanair boss Michael O'Leary said that a test flight in the area by his airline had not encountered any problems.
The volcano has now stopped erupting but there are warnings that Iceland is entering a new cycle of volcanic eruptions which may lead to far more disruption in the future.
Speaking at a European Civil Aviation Conference meeting in London, Mr Hammond said that more accurate data and better-informed decisions could only be reached by improving the input data for the model.
He added that airlines must constantly work with the government, regulators, air traffic controllers and the Met Office to improve the model's accuracy.
And the government wanted a broad international agreement on dealing with ash clouds, he said.
Related Internet Links
The BBC is not responsible for the content of external sites.