West Sussex council defends decision to buy llamas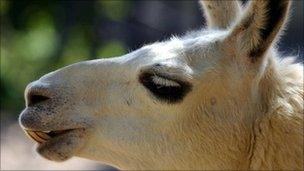 A West Sussex council has defended its decision to pay for two llamas on taxpayer-funded credit cards.
Horsham District Council used a payment card for the £1,150 purchase in February, to use the animals to graze communal council-owned land.
A spokesman said the llamas were a cost-effective way of managing the plot and entirely funded by a lottery grant.
He said the card was also used to pay £575 to re-stock a lake with fish which drew income from fishing licences.
Communities Secretary Eric Pickles accused some councils of "enjoying the high life paid for by you and me".
'Transactions scrutinised'
Local Government Association (LGA) chairman Baroness Margaret Eaton said the use of payment cards was "entirely appropriate" and could cut red tape.
A spokesman for Conservative-controlled Horsham District Council said the llamas were on open land used as an informal amenity area for residents.
"The land is former farmland and the llamas, with a small flock of sheep, are a cost-efficient and eco-friendly way of maintaining the land, with the llamas eating vegetation and shrubs not suitable for the sheep," he added.
"The purpose [of the card] is to reduce our transaction costs, paying lots of low value invoices is expensive, and the policy of using cards is part of our procurement strategy.
"The council pays them off each month. Officers who hold cards keep a spreadsheet of all transactions on the card and submit it to the council's finance department each month, when transactions are scrutinised."
Related Internet Links
The BBC is not responsible for the content of external sites.