Newspaper review: Sepp Blatter's Fifa future considered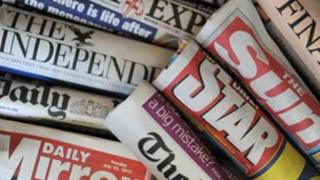 The likely re-election of Fifa President Sepp Blatter is the subject of many editorial articles in Wednesday's newspapers.
The Daily Telegraph believes it shows football's world governing body remains "impervious to international opinion".
The Daily Express carries an appeal urging Fifa to bring to a halt what it calls a farcical one-man election.
And the Daily Mail describes the vote as a throwback to the dark ages of Soviet bloc elections.
Many papers are worried about the financial plight of Southern Cross and the impact it will have on tens of thousands of vulnerable elderly people.
According to the Financial Times, ministers are standing by in the event that the care home operator collapses.
Dominic Kennedy, in the Times, says the company used a risky business model.
He says Southern Cross committed itself to paying a high level of rent in the expectation it would get increasing income from local authorities.
In its front page story, the Daily Mail reveals that a prisoner has used the Human Rights Act to become a father, even though he's still locked up.
It says his demand that his partner be artificially inseminated was approved by Justice Secretary Kenneth Clarke.
Many of the papers reflect on the fall from grace of Lord Taylor of Warwick, who has been jailed for expenses fraud.
The Sun is angry that even though he is in prison he will retain his seat in the Lords.
And the Daily Mirror claims to have a photo showing former members of Britain's special forces mixing with rebels in the Libyan city of Misrata.
The image causes the paper to question the government's assertion that it does not have boots on the ground in Libya.
The Mirror urges the prime minister to come clean about the extent of the UK's military involvement.
The Guardian says it has learned that the ex-SAS soldiers are helping Nato to identify targets in Misrata.