Airports accused of delays in lifting liquid ban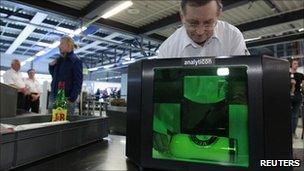 An MEP has accused British airports of dragging their feet over lifting the ban on liquids on board planes.
Transport committee chairman Brian Simpson said despite new scanners being ready to be rolled out, they would not install them on cost grounds.
He claims UK airports have pressured the European Commission to delay the lifting of restrictions until 2013.
The Airport Operators Association said it would not compromise security with equipment it was not convinced worked.
The new hi-tech screening machines, capable of detecting liquid explosives, cost between £40,000 and £50,000 each.
Mr Simpson told BBC 5 live: "The crucial point for me and my committee on this is that we don't actually believe it is a security issue, we believe it's an economic issue. It's about the cost of the machines."
The ban was brought in after UK police foiled a 2006 plot to blow up transatlantic planes using explosives hidden in soft drink bottles.
European airports then banned any liquid - including syrups, creams, gels and pastes - in containers larger than 100ml carried in hand luggage.
Frustrated passengers have been forced to throw away bottles of perfume, tubes of sun cream and other liquids before boarding planes.
The European Union planned a phased ending of the restrictions, beginning with a partial lifting of the rules for transit passengers passing through EU airports from outside Europe.
But at the end of April - a day before the partial lifting was due to be introduced - the commission said it would be delayed by six months as many member states were not ready and the airports did not trust the equipment.
However, at the end of May the commission scrapped the partial easing completely and said it would now work towards a total lifting of restrictions by 2013.
Mr Simpson said: "My concerns are that the member states who caused the problem this time around will do exactly the same in 2013 and, using the get-out clause of extra national security measures, will call for the ban at 2013 to carry on."
The UK government said the partial lifting of the restrictions were scrapped "in the light of the continuing high threat level" to security.
It said it remained committed to the 2013 date dependent on the security threat at the time.
The Airport Operators Association said it wanted the rules relaxed and understood the frustrations of passengers, but was "not prepared to compromise of security".
A spokesman said: "We are not convinced that the equipment is up to the job... we are not interested in purposely delaying the lifting of the strict rules on liquid."
Related Internet Links
The BBC is not responsible for the content of external sites.