Tricky balance in caring for vulnerable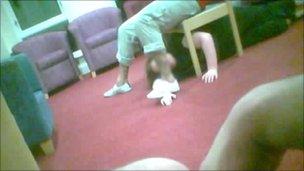 Secret filming by BBC Panorama that showed serious abuse at a specialist residential hospital in Bristol raises the question of good practice when it comes to caring for people with learning disabilities and autism.
So what kind of skills do staff need - and what particular challenges do they face?
Hannah Barnett, head of quality at the National Autistic Society, says all of its support staff have to undergo a nine-day induction programme before they are allowed to work with anyone with autism.
"Everyone has to do a range of courses - from autism awareness and safeguarding training to the principles of care and values, to a three-day course on managing challenging behaviour," she says.
Understanding the disability is key, and with autism - which affects about one-in-100 people in the UK - it is the ability to communicate or relate to other people that is impaired.
So staff are taught how to come up with alternative communication systems or strategies that enable people to get to the root of what they are trying to say.
A person-centred approach - which takes the individual's needs, aspirations, history and behavioural patterns into account - is also critical.
"There has got to be respect at all times - and a level of empathy and understanding of the individual.
"By recognising a person's individual triggers, it helps those working with people with autism or learning disabilities to be able to diffuse a situation if it becomes difficult," she says.
Ms Barnett says the NAS has a policy of not using any form of restraint, so when someone becomes agitated the aim is to try to calm them down another way.
"It's about understanding how they experience the world and why they are displaying a certain behaviour.
"Is it a hot or noisy room? Maybe remove them from the environment. Are they being really repetitive today but does a puzzle normally engage or motivate them? If they start clicking or tapping their fingers, does a healthy treat or bike ride usually help?"
She says the NAS also has a no blame policy, so if someone with autism does exhibit difficult behaviour, they are not punished. Instead it is recorded and analysed so that people can learn for next time.
Ms Barnett says in some situations looking after someone with a learning disability or autism can become stressful, for example when there is a lack of resources or management or inadequate staffing levels.
She says part of the NAS' training looks at what might lead a carer - in a hospital or at home - to become abusive - and the responsibility of safeguarding individuals and raising concerns.
"People are taught to look for signs of abuse - whether it is physical, emotional, financial, sexual, or institutionalisation or neglect.
"There could be issues of isolation, a lack of communication between two people, a fear that they may come to harm, a feeling of blame or guilt, or ignorance about the disability," she says.
But Ms Barnett says external inspections need to play their part in maintaining standards.
"Bodies need to be inspecting services and taking complaints seriously - and they should respond efficiently and effectively in the shortest period," she says.
David Congdon, head of campaigns and policy at Mencap, agrees that regulation needs to be tight, but he says getting the right people for the support roles is also key.
"Too often people have very limited skills, it is low paid, so sometimes places will recruit anyone who wants to do the job," he says.
Mr Congdon thinks training is useful - especially to ensure people do not react with anger or use physical restraint on the occasions that they are confronted by challenging behaviour.
But he says violent outbursts from people with learning disabilities only occurs in the minority of cases.
Out of the 1.25m to 1.5m people in the UK with learning disabilities, he says, about 35,000 to 36,000 are in some form of care home in England - and about 10,000 to 20,000 of them also have mental problems and sometimes display challenging behaviour.
Ensuring support staff have the right value systems is a fundamental goal, he believes.
"Understanding a disability at a technical level is important, but someone's value system, their caring attitude, and whether they treat people with learning disabilities as normal human beings rather than lesser people, transcends everything.
"If they do, they will treat people properly, as individuals - developing strategies to understand the wishes and needs of a person with a learning disability and finding distraction techniques to diffuse rather than escalate situations will come much easier," he says.
Related Internet Links
The BBC is not responsible for the content of external sites.