Driest spring for over 100 years, the Met Office says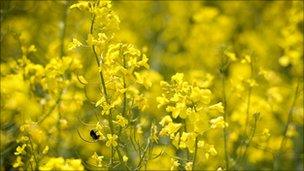 Parts of the UK have had the driest and warmest spring for more than a century, latest figures from the Met Office confirm.
Across the whole of England and Wales, it was the second driest spring since 1910 and the driest spring since 1990.
Some farmers are losing their crops, and there are fears that many foods will go up in price.
Chris Bateman, of the National Federation of Young Farmers, told the BBC: "It's quite serious."
Overall, England and Wales had only 45% of the long-term average rainfall for March, April and May.
But East Anglia had only 21% of the long-term average rainfall - giving the area the driest spring for 101 years.
The south-east and central-southern areas of England were equally dry, also having their driest spring for 101 years.
A National Farmers' Union spokeswoman told the BBC there had been "localised" crop failures as a result of the low rainfall.
She said: "Where crops have not had access to irrigation and they are grown on light, sandy soils, there is a problem.
"In some areas it's quite serious, but it's very localised."
The BBC's rural affairs correspondent, Jeremy Cooke, said: "The average temperature across the UK for the months March, April and May, was 13.5C (56.3F) - 2.3C (4.1F) above average.
"The north and west have had more rain in recent weeks, but south-east and central England recorded just 30% of average rainfall."
Chris Bateman, speaking from Bristol, said: "I work on a dairy farm where we have a lot of maize planted (for animal feed). Because of the rainfall we haven't had...the maize is beginning to get stressed, it's only two or three inches tall when it should be four or five inches. Without some rain in the next month it's looking quite serious."
He said: "It has been quite a dry winter and we have seen hardly any rainfall in the spring."
Mr Bateman said: "Our crops are behind and unless we get some rain soon we are only going to get half of our product, which means we will have to buy in more animal feed."