Judge to rule on Sir Fred Goodwin injunction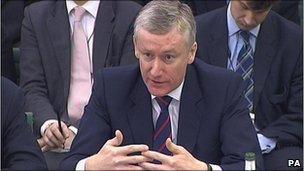 A High Court judge is deciding whether to lift the ban on media identifying a woman who allegedly had a relationship with ex-bank boss Sir Fred Goodwin.
Lawyers from News Group Newspapers, publishers of the News of the World and the Sun, asked Mr Justice Tugendhat to lift the privacy injunction.
Lawyers representing the woman, a former colleague of Sir Fred's, opposed the application.
The judge reserved judgment to a date to be fixed following another hearing.
That hearing will take place at the High Court in London.
The privacy injunction was imposed earlier this year.
Last month, Mr Justice Tugendhat lifted a ban preventing journalists saying Sir Fred, who is the former head of the Royal Bank of Scotland, had a relationship with the woman.
The judge varied a privacy order then to allow his name to be published after his identity was revealed in the House of Lords by Liberal Democrat peer Lord Stoneham.
Mr Justice Tugendhat's decision followed a court application by News Group Newspapers.
The former Royal Bank of Scotland boss did not object to the order being varied to allow his name to be published.
Richard Spearman QC, for News Group Newspapers, said the ban on revealing the woman's identity was stifling public debate in the aftermath of the collapse of the Royal Bank of Scotland three years ago.
Mr Spearman told the judge the matter is "plainly a matter of real, genuine, public interest".
But Hugh Tomlinson QC, who is representing the woman, said News Group Newspapers was seeking to build an application on "no foundations at all".
"There is no evidence before the court that there is any public interest in the disclosure of the information," he said.