Newspaper review: Concerns over care examined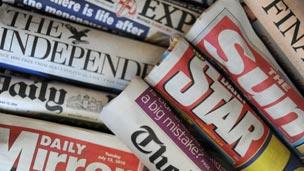 There is outrage over abuse revelations at the Winterbourne View Hospital in Bristol.
The Daily Mail claims a BBC Panorama programme has exposed cruelty and ritual humiliation as inhuman as anything described by Dickens.
There is further coverage of the financial problems facing UK's biggest care home company, Southern Cross.
It believes that while it is a time of deep anxiety for elderly residents, it should be a time of equally deep shame for the financial world.
A report by MPs accuses the government of allowing thousands of immigrants to stay in the UK so it can clear a huge backlog of applications.
The paper calls for Britain to regain its reputation for being firm, fair and swift in deciding on asylum claims.
Most papers cover the disappointment felt by thousands of sports fans who did not get any of the 2012 Olympic tickets they had applied for.
Among those who failed in their bid is Mayor of London, Boris Johnson.
Related Internet Links
The BBC is not responsible for the content of external sites.