Newspaper review: Concerns over care examined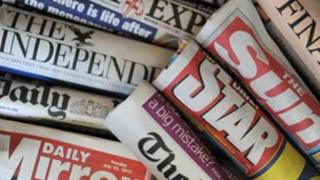 There is outrage over abuse revelations at the Winterbourne View Hospital in Bristol.
The Daily Mail claims a BBC Panorama programme has exposed cruelty and ritual humiliation as inhuman as anything described by Dickens.
The Daily Telegraph says the footage was reminiscent of that smuggled out of East European mental institutions before the collapse of communism.
The Guardian believes the images will have caused immeasurable damage to the private care sector.
Deep shame
There is further coverage of the financial problems facing UK's biggest care home company, Southern Cross.
The Daily Mail blames "ruthless City speculators" for leaving the company in "dire straits".
It believes that while it is a time of deep anxiety for elderly residents, it should be a time of equally deep shame for the financial world.
The Independent says it is a timely reminder, as the coalition government plans to push private finance schemes.
Asylum claims
A report by MPs accuses the government of allowing thousands of immigrants to stay in the UK so it can clear a huge backlog of applications.
The Daily Express believes evidence of a secret amnesty for failed asylum seekers turns the rules of justice on their head.
The paper calls for Britain to regain its reputation for being firm, fair and swift in deciding on asylum claims.
The Sun describes the admissions system as "chaotic" and says that depressingly the report comes as little surprise.
Games applications
Most papers cover the disappointment felt by thousands of sports fans who did not get any of the 2012 Olympic tickets they had applied for.
Among those who failed in their bid is Mayor of London, Boris Johnson.
The Guardian reports he is proud to be British because no other country would have the mayor go into a ballot for his family's tickets and get rejected.
The Daily Telegraph uses a different quote - he is apparently "massively disappointed and cheesed off".