Three quarters of UK workers 'half an hour from work'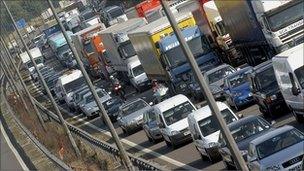 Its report highlights the discrepancies between those commuting to jobs in London and the rest of the nation.
Over half of Britons outside the capital have a work journey time of under 15 minutes, compared to only 18% in London.
In the last quarter of 2009, 71% of UK workers drove to work by car.
Of that, 76% of those outside London drove to work, compared to 35% in the capital, half of whom use public transport. In the rest of the UK, 9% of workers in the 16-64 age group use buses, trains or a metro system.
Nearly three-fifths of workers in the final quarter of 2009 lived and worked within the same local authority area. Some 10% get to work on foot.
London has a slightly higher proportion of people choosing to commute by bicycle.
Those who earn more and work in management or professional positions tend to having longer journey times, the statistics suggest.
At the end of 2009 the median hourly earnings for those with commutes over an hour long to London was £18.80 while those whose commutes were under 15 minutes earned an average £9.60 per hour. In the rest of the UK, the figures were £14.30 and £8.30 per hour, respectively.
An Autumn 1999 Labour Force Survey by the ONS of the time taken to travel to work by employees or the self-employed (at a work site not within their own home) estimated that 66% of full-time workers but 71% of part-time workers took less than 30 minutes to get to work.
In the period from 2002 to 2009, 71% of full-time workers and 86% of part-time workers were taking under half an hour to reach work.
To get to work I have a 15-minute drive to the car park, a 10-minute walk to get on the ferry and then a 25-minute bus ride. Margaret Cowell, Gosport, Hants
If companies were taxed based on the size of their workforce catchment area, travelling would be a lot easier. There must be so many staff who work for the same company, but pass each other travelling in the opposite direction to get to work. A tax would encourage companies to recruit more locally. Martin Watson, Teddington
I live in Wisbech yet couldn't find any local work so am having to drive down to Kent each day which is a 240-mile round trip and takes five hours on average. Tony, Wisbech
I live nine miles from where I work. I would prefer to use the bus but it would take me one and a half hours and would necessitate a bus ride into Manchester and then another bus out and vice versa. By car it takes a maximum of 25 minutes, dependent of course on hold ups - a no brainer. Sandra Heap, Manchester
I honestly believe that a commute of less than four miles should be done via bicycle. I cycle eight miles in total to work (there and back) and it takes little over 15-20 minutes each way. I'm not stuck in traffic, I'm not adding to the growing carbon emissions and I feel much better and healthier for it. Adam Daly, Nottingham
I live in Newcastle and work in Darlington. I did try to commute by train for a couple of months, but frequent delays and cancellations combined with increasing fares made it impossible. I am now back to driving, but thankfully car-share to help bring down the cost and mileage. Charlie, Newcastle
I lived in the far south of Croydon and worked in Newham in east London. My journey consisted of a drive and walk to the station. Half-hour packed journey to London Bridge, an even more packed tube journey to Canning Town and then the DLR out to the Royal Docks. It was a nightmare journey and when it went wrong it could be five hours plus! Fiona, Surrey
I commute for over an hour to work and over an hour back. This is (for me) the norm. I drive as the public transport systems available in Cornwall would mean I arrive at work over half an hour late and would have to leave either 45 minutes early or wait around the train station for almost an hour. Rebecca McCormack, Truro, Cornwall
There are five working adults in my family and four of them all have journeys of over an hour and a half (that's on a good day with no road works and no train cancellations) to work. Most people that live around us have similar journeys. R Bennett, Nazeing
I used to live the other side of Cardiff to where I worked - which was always a 30-35 minute commute, the majority of which was spent crawling along at less than 5mph bumper-to-bumper traffic. Almost a year ago I moved across the city and I now walk to work. I'm on time every day, I arrive in the office stress-free and I feel healthier for it! Also, the joy of living so close is that I can pop home for lunch if I want! Chris, Cardiff
Because of fuel bills and more demands on my family time, I am moving my business to within walking distance. Currently I have a 15 minute car journey to and from work. I plan to put an end to my reliance on the car. I have also moved closer to the town centre and bought a bicycle. Michael Brown, Kettering
I live six miles from work, but travel by car as I have to take my two children to school first. There is no direct bus route from where we live to school and it is too far for them to walk in the morning. Public transport is a definite no for this reason - especially in winter. Suzie Q, Hamilton, South Lanarkshire
Related Internet Links
The BBC is not responsible for the content of external sites.