Do not skimp on travel insurance, Foreign Office warns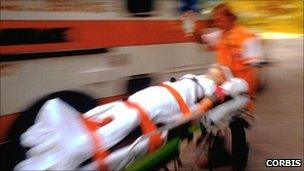 Britons visiting family and friends abroad without travel insurance are risking hefty medical bills, the Foreign Office (FCO) has warned.
The FCO said a survey of 4,647 adults this year found that a third of those who had stayed with loved ones overseas had not taken out insurance.
Some 39% had ended up relying on their hosts when things went wrong.
The Foreign Office warned skimping on travel insurance was "false economy" as overseas medical costs could be high.
The office is encouraging British nationals to take out insurance as part of its Know Before You Go campaign.
The campaign is designed to encourage British travellers to prepare properly before they go away.
Minister for Consular Affairs Jeremy Browne said more than five million Britons now lived abroad and their relatives and friends were increasingly taking the opportunity to visit them.
"Staying in someone else's home does not make you exempt from serious problems," Mr Browne said.
Researchers for the Opinion Matters survey found that 68.1% of the 1,477 people who had visited friends and family abroad had taken out travel insurance on their last trip.
Of those aged 16-24, 62.8% took a gift for their hosts overseas, but just 54.6% in that age bracket took out travel insurance.
British Consul for Florida Dean Churm said travel insurance meant a holiday accident could be disruptive but not financially crippling.
"What would your host appreciate more? A box of tea bags or dealing with a hefty medical bill because you were not insured?" he asked.
The FCO cited the example of a Briton visiting a relative in Canada who had suffered a heart attack and paid more than $40,000 in medical costs as his insurance had lapsed.
In April, the Health Protection Agency (HPA) warned that a rise in cases of malaria in the United Kingdom could in part be due to travellers staying with friends and family.
There were 1,761 new cases of the disease in Britain in 2010, an increase of nearly 30 per cent over two years.
The HPA said it believed these travellers may not have sought or were unable to access advice on malaria prevention or had not thought they were at risk because they knew the area they were travelling to.
It said staying with friends and family meant they were exposed to the same risk of contracting the disease as local people.
A Foreign Office poll in November last year found that 15% of 2,000 British nationals surveyed on all types of travel had not taken out insurance on their last trip.
When Britons are involved in accidents abroad, the Foreign Office can provide a list of local lawyers, interpreters, doctors or funeral directors.
It can contact friends and family in the United Kingdom.
Consular staff can also visit Britons in hospital or prison.
However, staff cannot arrange better medical treatment or pay bills for British nationals.
Related Internet Links
The BBC is not responsible for the content of external sites.