Council parking tickets rise as more appeals fail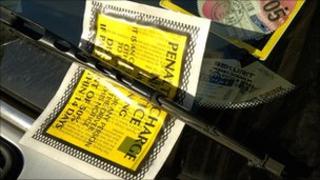 The number of local council parking tickets has risen to 4.24 million in 2009/10, from 4.03 million in 2008/09.
Appeals to the Traffic Penalty Tribunal rose by 15% during the same period but the success rate fell from 62% to 57%.
Although 50 more councils in England and Wales have joined the Penalty Charge Notices scheme, half of councils in it issued fewer tickets in 2009/10.
Tribunal chief adjudicator Caroline Sheppard has called for more fairness and integrity in council use of CCTV.
She wants to see a new body dealing with tickets issued by private car park operators.
"The tribunal is receiving increasing numbers of complaints and phonecalls from motorists who have been sent a document, often resembling a council PCN, from the operator of a private car park," said Ms Sheppard.
While the tribunal does not deal with challenges to private car park charges, there is no government ombudsman or appeal process that does so either.
Ms Sheppard acknowledged that, while there might not be the funds for such a service, "given the number of calls the tribunal receives, there is clear need to establish such a body".