Bravery medals for soldiers who fought Taliban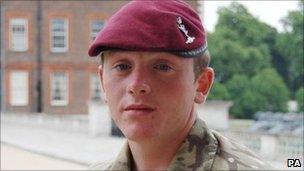 British soldiers who fought off attacks by the Taliban in Afghanistan have received their service medals.
About 150 servicemen from 216 (Parachute) Signal Squadron were on parade before the Princess Royal at the Royal Hospital Chelsea in London.
Signalman Nathan McInnes, 21, from Rochdale, was with 3 Para in Nad Ali North when they came under attack.
"We were patrolling along when we heard a bomb go off and there was lots of screaming," he said.
Sig McInnes said: "The Taliban had fired a UGL (underslung grenade launcher) into a compound - they thought we were there but it was full of women and children."
Eight children, two women and two men were maimed.
Sig McInnes said: "There was one girl who was just knee-high who had lost an arm and was covered in blood. She wasn't even crying."
While firing his weapon he also provided first aid and made radio contact with headquarters.
"At first, what's going on around you doesn't really kick in. The adrenaline takes over. Afterwards I was thinking 'I hope it's not like this every time'," he said.
A helicopter eventually evacuated the civilian casualties while troops engaged the Taliban in a firefight.
One soldier missing from the parade was Corporal Steven Dunn - he was killed in December when his vehicle was blown up by an Improvised Explosive Device (IED).
Cpl Dunn, 27, died four days before Christmas - he is survived by his wife Cheryl and six-year-old daughter Emily.
The Dunn family attended the parade to remember those who did not survive their tours of duty in Afghanistan.
Lance Corporal Mark Douglas, 22, from Kingswood in Bristol, recalled an incident when a comrade was badly injured after an IED exploded beneath his Warthog armoured vehicle.
He said: "We cleared the area and rushed to him to treat him. He wasn't breathing properly but he was conscious so we were reassuring him.
"You don't have time to think about it. It all just clicks in and you get on with it," he added.
The princess, colonel-in-chief of the Royal Corps of Signals, told troops: "Your determination, certainly courage, and ability to adapt ensured you rose to each and every occasion.
"I wish to pay particular tribute to the late Corporal Steven Dunn. He made the ultimate sacrifice in support of our safety and security."
Related Internet Links
The BBC is not responsible for the content of external sites.