Max Mosley appeals after privacy law defeat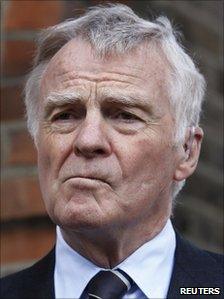 Ex-motorsports boss Max Mosley has launched an appeal after losing his bid to force newspapers to warn people before exposing their private lives.
His lawyers said he would continue his campaign despite losing a human rights challenge over News of the World (NoW) revelations about his sex life.
Last month the European Court of Human Rights rejected his attempt to force a change in UK privacy laws.
A seven-judge panel ruled that would have a "chilling effect" on journalism.
Mr Mosley has applied for an appeal hearing before a 17-judge grand chamber of the same court - the last legal avenue open to him.
Although the court ruled against him, it acknowledged there had been unjustified media intrusion in his case.
In 2008, the UK High Court awarded the former Formula One boss £60,000 damages after ruling the NoW invaded his right to privacy by reporting on his sex life.
A judge ruled there was no justification for the paper's front-page article about him paying five women to take part in a sado-masochistic orgy.
The tabloid said the orgy involving Mr Mosley, the son of fascist leader Oswald Mosley, had Nazi overtones, but this was rejected by the judge.
Despite being awarded damages, Mr Mosley argued money alone could not restore his reputation.
Related Internet Links
The BBC is not responsible for the content of external sites.