'Sexualised' children grow up too fast, say parents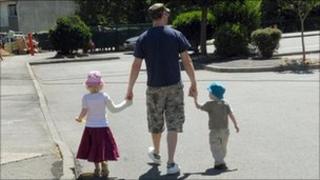 A report into the sexualisation of children seems to have struck a chord with many parents.
Some of those wandering around a west London shopping centre on a quiet Saturday morning stopped to express their opinions on the Bailey Review, into the sexualisation and commercialisation of childhood.
The document says parents should be able to buy computers, devices or internet services with adult content already blocked, rather than having to impose controls themselves.
It also calls for age-ratings on music videos and also suggests more advert controls, which the review says should keep advertising with sexual imagery away from schools and playgrounds.
Derek and Renata Holland, parents to a 7-year-old daughter, said that the sexualisation of children through such mediums as music videos and adverts has "already hit rock bottom, and we're past the point of no return".
Mr Holland said: "If the government was to impose legislation then that would be a bit Big Brother. It needs to be a bottom up approach by parents, not top down by governments."
Mrs Holland said adult fashion is sometimes copied for younger children.
"They try to make mini versions of adult clothes, so that mothers can make their daughters look like them. You can get high heels for children, and bikinis. I certainly didn't have a bikini when I was a child.
"The exposure is hard to avoid. I let my daughter stay up to watch a singer on Britain's Got Talent, but then the adverts shown in the commercial breaks are more exposure to adult images. It's unavoidable."
International issue
Claire is a mother of two children, aged 14 and 16, who declined to give her surname.
She did say that sexual images in modern society "need pulling back a bit because of the messages they convey to young, impressionable girls".
She added: "I'm not a prude, but there are, for example, a lot of songs with explicit lyrics. Some songs by Rhianna, that nine-year-olds sing along to, have appalling content.
"Nowadays girls are much more sexually active than my generation was. And boys don't see any problem with girls behaving that way, and think it's the norm.
"This sexualisation of children means that boys and girls don't give each other respect."
Bgorn Frydenlund, 54, is visiting London from Norway. He is father to three children, aged 27, 21 and 13.
He said: "We have the same discussion in Norway, and there are concerns about it.
"I think governments should take a strong line. And it shouldn't be just in individual countries, there should be something introduced across the EU.
"This sexualisation is taking away the natural step from being a child and becoming an adult. There is enough pressure on children already, to do well at school for example.
"When I was growing up it was much easier than it is today."
'Consumer choice'
Father-of-three, Daniel Nebbit, said music videos should be "age rated".
The 45-year-old added: "I don't think they should be censored, but some of them are near the mark and need to have their access by children restricted.
"It's a different world to when I was growing up. There weren't even many music videos around when I was a boy.
"The way society is today, by the time they're 12 or 13 they think they need to be an adult and need to dress that way."
Sarah Cordey is a spokesperson for the British Retail Consortium (BRC), which is launching new "good practice" guidance on Monday for stores selling children's clothing, including appropriate colours and fabrics and has been developed in association with nine major retailers who have signed up to it.
She said that, contrary to popular belief, there was not much in the way of inappropriate clothing being made available to children.
"There have been a few isolated incidents of items on sale that has created this myth that there's a lot of provocative clothing out there," she said.
"No retailer wants to put stuff in their shops that upsets customers and that people don't want to buy - that's not good business. Responsible retailers carefully assess which products are right to have on their shelves and are anxious to keep consumers happy.
"Our guidelines formalise these principles [of responsible retail], so shoppers can see clearly what participating retailers take into account."