Wayne Rooney confirms hair transplant at Harley Street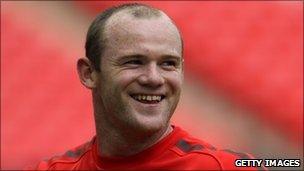 Footballer Wayne Rooney has confirmed he has had a hair transplant at a top London clinic in a bid to restore his receding locks to their former glory.
In a post on Twitter, the England star said he was "delighted" with the result.
"Just to confirm to all my followers I have had a hair transplant. I was going bald at 25 why not," he tweeted.
The Manchester United striker said he had his treatment at a hair clinic on London's famous Harley Street.
He also asked his followers if anyone could recommend any good hair gel because his head was "still a bit bruised and swollen".
The footballer's wife, Coleen Rooney, also took to Twitter to confirm the news, making sure people knew it was his decision, not hers.
"Hiya!! Yes waynes had his hair done! His own decision not me asking him, like alot are saying!! Pleased for him and it will look great," she tweeted.
Meanwhile Manchester United and England teammate Rio Ferdinand joked: "Just don't go down the wearing a alice band route!! You'll be doing head&shoulders adverts soon! Hope its gone ok Good luck lad."
It is not the first time one of Rooney's teammates has teased him about his hair on Twitter.
On 7 May, Manchester United star Michael Owen tweeted: "How old are you in that photo? Your face looks like a 12 year olds but your hair looks like a 60 year old!".
"Easy mo u know that's a sensitive subject," was Rooney's response.
Rooney is the latest in a line of sports stars to have turned to treatment to beat baldness.
In 2005, ex-England cricketer Graham Gooch and former England rugby player Austin Healey appeared in adverts for an anti-hair loss laser treatment.
At the time, Advanced Hair Studios said both men, and Australian cricketer Shane Warne, were among 300,000 people worldwide who had taken up the laser therapy - or the company's patented strand-by-strand hair replacement procedure - although the Advertising Standards Authority later ruled the laser therapy's effectiveness had not been proved.
In 2008, former Monty Python star John Cleese also confirmed he had had a hair transplant, during a television interview with presenters Richard Madeley and Judy Finnigan.
________________________________________________________
Legal Notice - 2 August 2012: This article is the subject of legal proceedings. Advanced Hair Studio claim that this article is defamatory of them and assert that a form of laser treatment which they now use, the LaserComb, has since been accepted by the ASA in a 2012 ruling as being proven to promote hair growth.
Related Internet Links
The BBC is not responsible for the content of external sites.