Newspaper review: IMF support for UK economy plan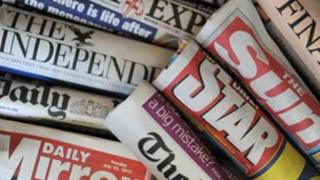 The IMF endorsement of Chancellor George Osborne's plans for reducing the deficit is a major talking point.
"The IMF says Plan A is just fine," says The Sun.
The organisation has "vindicated his judgement," says the Daily Telegraph.
It hopes he takes note of the IMF's suggestion that there should be tax cuts if the slowdown persists.
But the Independent says Mr Osborne needs a Plan B should his optimistic forecasts not be fulfilled.
'Future behaviour'
According to the Times, the government will admit that millions of pounds has been squandered on ineffective anti-terrorism projects overseas.
Its new strategy, to be published on Tuesday, will apparently promise to "significantly scale up" efforts to counter home-grown terrorism.
Doctors will be asked to identify "vulnerable" people, says the Guardian.
But a BMA spokeswoman tells the paper a doctor's role is not to "predict how the patient will behave in future".
Hacking community
The Daily Mail welcomes what it calls the "robust talk" from the Home Secretary Theresa May.
During a visit to France to inspect border controls, she said the fight against illegal immigration remained one of the government's top priorities.
An investigation by the Guardian into computer hacking has found that up to a quarter of hackers in the US are secret service informers.
Cyber policing units are said to have "an army of informants" on the inside.
Dead language
The international development secretary is criticised for saying the rise in foreign aid spending would make the UK "a development superpower".
"Triumphalist nonsense" is how the Daily Express describes Andrew Mitchell's comments.
A new dictionary has just been completed by academics at Chicago University, says the Daily Telegraph.
It is 21 volumes of Akkadian, a dead Semitic language with several dialects, and it took 90 years to complete.