UK doctors begin pioneering asthma treatment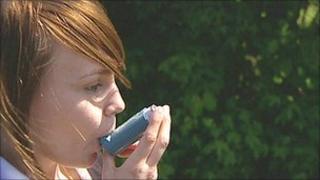 Doctors in Manchester and Glasgow have begun treating NHS asthma patients with a pioneering treatment described as "melting away" muscle in the airways.
Instead of using drugs such as steroids, a wire probe is inserted into the lungs and then heats the tissue.
Currently, the procedure - called bronchial thermoplasty - is not being used anywhere else in Europe.
The technique uses 10-second bursts of radio waves which heat the lining of the lungs to 65 degrees Celsius.
That destroys some of the muscle tissue which constricts during an asthma attack, making breathing difficult.
Dr Rob Niven, senior lecturer in Respiratory Medicine at the University Hospital of South Manchester, who led the team carrying out the procedure at Wythenshawe Hospital, said "bronchial thermoplasty is the first non-drug treatment for asthma and it may be a new option for patients with severe asthma who have symptoms despite use of drug therapies."
"The operation went according to plan and our patient has responded well. It will be a little while before we are able to say it's been a complete success, but I am cautiously optimistic," he said.
Normal airway
Airway of asthma patient has thickened muscle walls restricting the opening
Bronchoscope containing small wire probe passed into lungs
Probe is expanded so it touches walls of airways
Probe is then heated, reducing thickness of muscle tissue. Process is repeated along the airway to increase capacity
'Encouraging'
The procedure follows six years of trials in the UK, Canada and South America. Patients in the United States have been receiving the treatment for some months already.
Bronchial thermoplasty will not be used on children, says Dr Niven, and its effectiveness decreases as patients age.
Tens of thousands of patients across the UK with the most severe forms of asthma stand to benefit most from the treatment.
Symptoms can worsen to begin with, as the heat also causes damage to the sensitive lung lining. But once this is repaired doctors say asthmatics can be helped for up to five years.
However, cost is a potential problem - it costs around £10,000 per patient, although savings could be made in the longer term through fewer hospital admissions and reductions in the costs of medicines.
It will be up to the local NHS bodies, which buy care for patients, to decide on whether to fund it, possibly on a case-by-case basis.
According to the campaign group Asthma UK, 5.4 million people in the UK have asthma and around 250,000 of these have severe asthma.
The group's Chief Medical Adviser, Professor Ian Pavord, said of bronchial thermoplasty: "In some people with severe asthma, the symptoms of their asthma have been improved and the risk of them having an asthma attack has been reduced, so it is encouraging to see that the technique has now been carried out outside of clinical trials."
"However, this kind of procedure will not work for everyone so we would encourage people with asthma to discuss various treatment options with their GP to find the best way for them to keep their asthma managed and under control."