A tradition of Church v state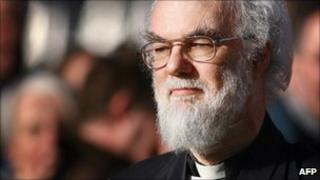 Rowan Williams's criticism of the government's Big Society policy is by no means the first time the Church of England has entered the political arena.
In the past, the Archbishop of Canterbury has spoken out on issues ranging from the Iraq war to the role of bankers in the economic crisis and he is no stranger to controversy.
In doing so he follows his two most recent predecessors, Lord Carey and Lord Runcie, both also regular critics of the governments of their time.
According to former Prime Minister Tony Blair, there is a long-standing tradition of archbishops criticising government.
He says: "Obviously people used to criticise our policies not just on Iraq and foreign policy but on domestic policy and reform as well. It's just part of the way things work."
But BBC religious affairs correspondent Robert Pigott says Dr Williams's latest attack on the government is extraordinary for its breadth and his most overtly political yet.
"Dr Williams even questioned the coalition's use of its democratic mandate, claiming that no-one had voted for its radical reforms to health and education, and that they were being forced through without 'proper public argument'."
Not since Archbishop Runcie's attack on some of Margaret Thatcher's policies has an Archbishop of Canterbury made such outspoken criticism and so political in tone, he says.
But Robert Pigott says Dr Williams regards many current political issues as matters of social conscience and will see his role as akin to that of the nation's conscience.
'Open acrimony'
Jonathan Bartley, co-director of liberal Christian think-tank Ekklesia, also compares Dr Williams's latest comments to the Church of England's interventions in the mid 1980s - a period characterised by what some described as "open acrimony" between Church and government.
During his time as Archbishop of Canterbury - from 1980 to 1991 - Robert Runcie frequently pitched himself in opposition to the Thatcher government.
He expressed opinions on the miners' strike - saying the government should stop treating its opponents as "scum" - on its the handling of the economy, on Britain's "lunatic" nuclear arsenal and the Falklands War.
Under his leadership, the Church of England also published a report, entitled Faith in the City, on perceived inequalities on housing estates under the Thatcher government.
The 1985 report was seen as a severe rebuke to the government for its failure to address the problems of Britain's declining urban districts.
'Considered view'
Mr Bartley says protecting the poor and vulnerable are seen as part of the Church's role.
He says its current leadership has faced criticism from some quarters for not speaking out against coalition policies sooner.
"It's refreshing to have [Rowan Williams] speaking out and voicing the concerns of people in the country," he said. "On the other hand, it shouldn't be so surprising that a church leader speaks out."
Dr Williams is also coming under fire from commentators on the left, who question his right, as a member of the unelected House of Lords, to criticise the government for not seeking more of a public mandate on its reforms.
However, Mr Bartley says Dr Williams is not one to be rushed into rash comments and would have spent time to reflect before committing his thoughts to print. "He doesn't shoot from the hip," he said. "He would have taken a considered view."
Taking a stand
The archbishop's New Statesman article comes on the heels of Dr Williams's headline-making criticism of the US killing of unarmed al-Qaeda leader Osama Bin Laden - an event he said had left "a very uncomfortable feeling".
And he sparked a major row in 2008 after a lecture at the Royal Courts of Justice in which he said that the application of sharia law in England under certain circumstances was unavoidable.
During the years of Tony Blair's government, Dr Williams was one of the most high-profile voices against the war in Iraq.
He signed a petition against the war in 2002, then in 2004, Rowan Williams and the Archbishop of York wrote to Mr Blair on behalf of all Church of England bishops criticising the conduct of some British troops.
Interviewed on the Today programme in 2006 he said he was still not convinced of the morality of the war and believed the decision-making process behind it had been flawed.
"I said before the war began that I had grave reservations about the morality of it; and as I've said recently, I haven't really been convinced that that was the case."
'Future civil unrest'
Dr Williams's predecessor, George Carey, also voiced strong political opinions and continued to do so after leaving the post.
In April 2010 he locked horns with the judiciary, telling a judge that the appeal case of a relationship counsellor who had been sacked for refusing to give sex therapy to homosexual couples should be heard by a specially-constituted panel of judges with a "proven sensitivity and understanding of religious issues".
"The fact that senior clerics of the Church of England and other faiths feel compelled to intervene directly in judicial decisions and cases is illuminative of a future civil unrest," he warned.
He has also repeatedly accused the government of discriminating against Christians and called for stricter controls on immigration, saying the UK should give priority to immigrants who were committed to "our values".
He was also among those speaking out in the wake of the MPs' expenses scandal, condemning the "clawing greed" of politicians after details of their claims were leaked.