Ratcliffe-on-Soar power station trial inquiry launched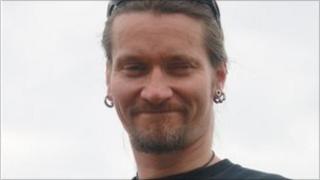 An independent inquiry is being launched into the trial of activists accused of planning to shut down a power station in 2009.
It will examine claims the Crown Prosecution Service kept evidence from defence lawyers in the case - which involved the Ratcliffe-on-Soar plant.
The move was announced by Director of Public Prosecutions Keir Starmer QC.
Prosecutors discontinued the case in January, saying it had been undermined by "previously unavailable material".
'Went rogue'
The decision to discontinue the trial of six activists came amid reports that Pc Mark Kennedy, who had infiltrated environmental groups while working undercover, had changed sides and had offered to help the defence. Mr Kennedy later denied he "went rogue" - but admitted questioning his role.
Claims have now surfaced that prosecutors had access to tape recordings made by Pc Kennedy, who was exposed a few months ago, for longer than they had said.
It has been reported that the tape recordings had been in the hands of the CPS for months prior to their disclosure and the subsequent collapse of the trial.
The witholding of the tapes may also have had implications for the conviction of 20 other protesters sentenced for planning to break into the same power station.
The Independent Police Complaints Commission (IPCC) is investigating the case and the Crown Prosecution Service announced on Wednesday it was also looking into the matter.
Mr Starmer said: "In light of growing concerns about the non-disclosure of material relating to the activities of an undercover police officer in the Ratcliffe-on-Soar power station cases, I have decided that I will set up an independent inquiry, conducted by a senior legal figure, to work in tandem with the IPCC (Independent Police Complaints Commission) inquiry into the matter which began in January 2011.
"The two inquiries will have full access to all the available evidence, whether held by the police or the CPS (Crown Prosecution Service), and will share information."
He added: "Until the two inquiries report, it is important that no conclusions are drawn about any individuals involved in this matter."
The CPS investigation into the claims is being led by Deputy Chief Crown Prosecutor for CPS North East Chris Enzor.
After the collapse of the case in January, the CPS asked Clare Montgomery QC to advise on the safety of the convictions of the 20 activists in an earlier case.
The group had been convicted in December 2010 of conspiracy to commit aggravated trespass at the Nottinghamshire power station the year before.
On the basis of Ms Montgomery's review, Director of Public Prosecutions Kier Starmer QC said he believed the Court of Appeal should look into the safety of the convictions. He advised the 20 activists to appeal.
Those convicted were among more than 100 people arrested in Sneinton, Nottingham, in April 2009.