Newspaper review: Papers consider leaders' troubles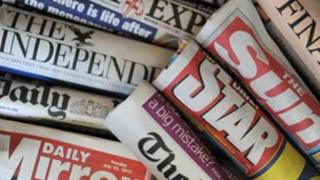 The Daily Telegraph warns David Cameron he is facing a mutiny by Conservative MPs over what it calls his climbdown on changes to the NHS.
The Telegraph says backbench Tories feel their leader has given too much away to the Liberal Democrats.
Writing in the Independent, Shirley Williams tells fellow Lib Dems they can feel proud of what they have achieved.
The Daily Mail says Mr Cameron is planning a second "retreat" - on plans to cap benefits.
Finding feet
Ed Miliband is also under pressure, over his showing as Labour leader and claims about a feud with older brother David.
"Labour's bigwigs admit Ed faces the axe," says the Sun.
Writing in the Guardian, Jackie Ashley says he needs his brother's support because if he cannot win back David, how can he win back anyone else?
The Daily Mirror is on Ed's side. It admits he is still finding his feet but says the least he deserves is his party behind him.
Sanctions call
The Times carries an eyewitness account of events in the rebel Syrian town of Jisr al-Shughour.
A man, identified only as Musa, claims Syrian special forces dragged families from their homes and shot dead anyone who tried to run away.
He describes seeing two boys mown down by fire from Syrian tanks.
The Guardian describes it as "butchery, while the world watches" and argues the full range of sanctions should be brought to bear on the Syrian regime.
Compensation payouts
The Independent leads with a prediction by billionaire philanthropist Bill Gates that polio could be wiped out within two to four years.
It comments that "mass vaccination is the right medicine for the planet".
People wrongly sold payment protection insurance are in line for fast-track compensation, says the Daily Express.
The paper says Barclays will become the first bank to pay out in full on a "no questions asked" basis, with letters going out to victims on Monday.