One in 20 drivers not belting up, survey suggests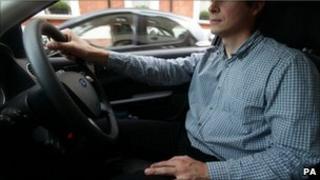 One in 20 drivers is not wearing a seatbelt, a roadside survey for the Automobile Association (AA) suggests.
The AA said 40,000 cars were logged by 400 volunteers across the UK in April and May, and that 4.92% of drivers had not been belted in.
The observers also said about one in 10 cars appeared to be travelling too fast when approaching junctions and nearly a quarter had broken brake lights.
Some 0.23% of drivers were also seen using hand-held phones.
'Clunk click every trip'
The survey also suggested that a third of British drivers did not indicate at junctions and roundabouts.
AA volunteers spent an hour or more conducting the research at roundabouts and road junctions between 16 April and 9 May 2011.
Their survey indicated that drivers in the West Midlands were least likely to wear seatbelts, with 7.43% of drivers seen without them, while just 3.48% of drivers in the East Midlands were logged as not belted in.
AA President Edmund King said it was concerning that the "clunk click every trip" message did not appear to be reaching everyone.
"We were really quite astonished that approximately 5% of drivers weren't belted up because the statistics clearly show that people not wearing seatbelts actually contributes to about 30% of road deaths.
"So that's 30% of deaths that could be prevented if people just took an extra couple of seconds to belt up," Mr King told the BBC.
'Making excuses'
He said there seemed to be a core of drivers functioning outside motoring laws but that another group seemed to be making excuses.
"In previous surveys that we've done, excuses came up - atrocious things like, 'Well, actually I might crease my shirt or my blouse; I'm only going down the road.'
"Those excuses just aren't good enough because even if you're pulling out of your driveway you can hit a van, hit another vehicle, and the consequences without wearing a seatbelt are actually quite dire."
Under UK law, drivers caught not wearing seatbelts face on-the-spot fines of £60, or up to £400 if prosecuted.
Many of the un-belted drivers were behind the wheels of taxis and vans, Mr King added.
Drivers of goods vehicles making deliveries with 50 metres or less between stops, and on-duty taxi drivers, do not legally have to wear seatbelts.
Road safety minister Mike Penning said the vast majority of drivers and passengers in Britain buckled up but some "still think that they don't need to use a seatbelt".
"My message to them is simple - seatbelts save lives and not wearing one just isn't worth the risk," he said.
Research carried out for the Department for Transport in October and November 2009 and published in February 2010 suggested that 95% of drivers in England and Scotland were wearing seatbelts. That figure was unchanged from 2008.