William and Kate to take seven staff for US tour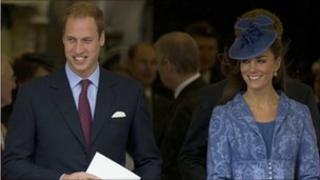 The Duke and Duchess of Cambridge will travel to the US and Canada with an entourage of seven staff, St James's Palace has said.
The 11-day trip, which begins at the end of June, marks Kate's first official overseas engagement as a member of the Royal Family.
Officials said they had tried to keep the entourage as small as possible while still giving Kate enough support.
Their US visit will include a game of polo and a Bafta black-tie reception.
Details of the couple's three-day visit to California were announced on Wednesday.
They will attend the charity polo match in Santa Barbara, at which the prince will play and Kate will award the trophy, then host a Bafta reception at which the couple will promote British talent in film, television and video games.
They will also meet young homeless people at an arts project and learn about the work being done in the US for military personnel when they return home.
'Properly supported'
BBC royal correspondent Peter Hunt said it was a smaller entourage than travels with William's father, the Prince of Wales.
Kate will accompanied by her hairdresser, James Pryce, but has asked not to be accompanied by a dresser.
The staffing will include private secretary Jamie Lowther-Pinkerton, assistant private secretary Chris Keeley, press secretary Miguel Head, and the Prince of Wales's press secretary, Patrick Harrison.
Sir David Manning, an adviser and aide to the couple, will also travel, with a secretary taking the final place.
Mr Lowther-Pinkerton said: "The entourage is designed, whoever it is, according to requirements of the tour and we've just followed that principle really.
"In that, actually having done a pretty careful analysis, we've kept it as tight as we possibly can.
"But we've been minded of the fact (this is) the duchess's first tour and she needs to be properly supported so she doesn't have to worry about stuff other than core matters."
The three-day visit to the US follows the tour of Canada from 30 June to 8 July and will be the first official visit to the US for the duke.
While the prince has previously visited the States in a private capacity, this will be the duchess's first trip to the country.