Bisexual Christian embarks on homophobic 'hurt' journey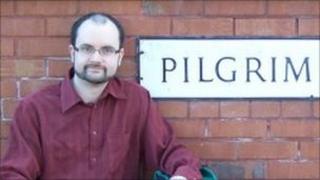 A bisexual Christian writer is embarking on a pilgrimage to make amends for what he says was his his past "hurtful" homophobic behaviour.
Symon Hill says he wants to highlight repressive attitudes towards gay men and women in some Christian groups.
He aims to replicate medieval religious pilgrimages, attending prayer services en route from Birmingham to London.
Some traditional Christians are critical, saying that gay lifestyles fall short of God's standards.
Mr Hill, who is also a director of the religious think tank Ekklesia, will begin his walk on Thursday morning, starting from Carr's Lane Church in Birmingham.
The route includes Coventry, Leamington Spa, Chesham and Watford, and he will finish in London on 1 July.
Mr Hill, who says he has been a member of several churches, plans to stop at churches along the way giving talks and taking questions from audience members.
'Sin'
He will also rely on the hospitality of local Christians for shelter, resting in houses and church properties as he travels, in the manner of medieval Christians who undertook arduous pilgrimages in order to atone for their sins.
It will culminate with his participation at London's Gay Pride event, on 2 July.
Mr Hill says he is making the pilgrimage, which he has been planning for more than a year, because he regrets some of his actions when he was younger, before he acknowledged that he himself was bisexual.
He campaigned against the ordination of gay and lesbian ministers in the United Reformed Church, and while employed as a youth worker, he told a fellow employee that his lifestyle was sinful.
That former colleague will now join him for one stage of his journey.
Mr Hill believes that the fact that he, a Christian, changed his mind over the issue of homosexuality means that he can engage more fully with religious opponents.
"Homophobia is a sin. Certain Christian groups are sadly leading campaigns in favour of homophobia. It is vital that Christians are at the forefront of the fight against it," he said.
His pilgrimage is being backed by the former Bishop of Oxford, Richard Harries, but some Christians with traditional views on sexual ethics have criticised him.
Andrea Minichiello Williams, CEO of the Christian Legal Centre and Christian Concern, says that the Bible is very clear that all sexual relationships outside of heterosexual marriage are wrong.
She said: "What matters is biblical truth and the standards that God sets for our behaviour.
"Mr Hill is free to do his walk, but to love others means talking about their sins, and pointing them to the hope that is in Jesus Christ."
Mr Hill has named his journey a "walk of repentance'".