Legal right of police staff to strike under review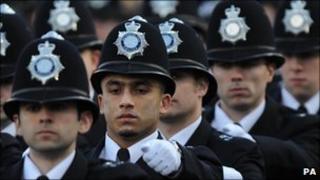 It is "legitimate to ask" whether civilian staff working for the police should be banned from going on strike, according to a government adviser.
Tom Winsor has been commissioned by the home secretary to review police pay and conditions in England and Wales.
He said there was "much to be said" for considering whether police staff should have the same terms as fully sworn officers, who are not able to strike.
Police staff who are members of the PCS union are due to strike on 30 June.
They and other civil servants will walk out in a row over pay and pensions, along with other PCS union members, who include teachers and court staff.
The PCS said it opposed any action to limit police staff's ability to go on strike and said it would be a "gross infringement of their civil rights if they were banned from taking industrial action".
A spokesman added: "There's a lot of talk about people's democratic right to withdraw labour at the moment, but it's inadvisable for the government to go down this route as they'll inflame tensions and invite people to take even more action."
'At risk' pay
Mr Winsor's comments came as he launched a consultation into the second phase of his review.
He has already outlined plans showing how he believes more than £1bn of savings should be made.
Now he is considering whether a system should be brought in which puts a certain proportion of officers' pay and pensions "at risk" following poor performance.
Mr Winsor is also looking at the role of controversial new police and crime commissioners, who will have the power to hire and fire chief constables, and whether they could also be given powers to dock top officers their pay and even reduce pensions.
Other options Mr Winsor is examining include:
Requiring officers to undergo regular fitness tests
Removing paid overtime from police and replacing it with allowances
Allowing new recruits to join the service without being a constable for two years - ie joining at a higher rank
Whether a chief constable's pay should be assessed "on his or her total package, including benefits, or on basic pay alone?"
If safeguards should be put in place "in the case of a proposed reduction of a chief constable's pay"
Whether skills or roles should affect pay
If policing should be a job for life
Police civilian staff make up 40% of the police workforce, amounting to 78,000 staff.
The majority are police community support officers.
"Optimising the capability and capacity of the entirety of the policing workforce suggests bringing police officers and police staff closer together," he said.
"There is much to be said for at least considering a presumptive position whereby the terms on which police officers and staff are engaged should be the same, except where there is a sound business or operational reason for them to be different, rather than the other way around.
"Given that, and noting that the right to strike is not one enjoyed by police officers (and there is no widespread desire for that to change), then it is legitimate to ask whether the right to strike should be withdrawn from police staff, to recognise their strategic and operational importance, the need for their close integration in police forces, and the increased flexibility offered to the entirety of the workforce."
'Military-style' commissions
Giving evidence to MPs on the Commons home affairs select committee, Mr Winsor said policing may no longer be seen as a job for life following his review.
He said "military-style" shorter-term commissions for police officers were being considered.
Further recommendations could see a change "to the structure of police careers" as part of a second part of the review, "so police officers would not be signing up for a guaranteed job for 30 or 35 years", he said.
"They would instead be signing up for an initial term of five years."
He admitted the recommendations could see a change in the nature of policing, adding: "I know of no other occupation where you are guaranteed a job for 30 years."