Jury 'tampering trial' challenged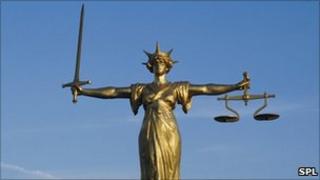 An unprecedented decision by a judge to give her own verdict in a trial may go to the Supreme Court.
Recorder Caroline English discharged a jury at London's Wood Green Crown Court amid allegations of jury tampering.
The Court of Appeal backed her decision to sit alone, saying there would be no unfairness to the defendants.
However, the benefits fraud trial has been adjourned after lawyers for the accused said they wanted to go to the UK's highest court.
If the Supreme Court hears the case, its judgement could play a crucial role in setting the ground rules for juryless trials in years to come.
The recorder's decision to discharge the jury in March, and then consider the evidence herself, was the first use in England and Wales of a special power designed to protect trials from jury tampering.
The Criminal Justice Act 2003 says that a judge can take this extreme step where they believe there have been attempts to influence the jury and where they also believe that their verdicts can be reached fairly.
Last year, England's first juryless trial for 350 years took place - but Recorder English's decision was the first decision that involved continuing a case already heard by a jury.
'Possible precedent'
Neil Mohabir, solicitor for one of the defendants in the case, confirmed that counsel for the defendants wanted the principles behind the recorder's decision to be considered by the Supreme Court.
"This is the first time that this has arisen," he told the BBC. "By taking the case to the Supreme Court, counsel will be seeking guidance for all the courts because the case could set a precedent."
The case at Wood Green Crown Court involved defendants accused of housing and council tax benefits fraud.
One of the five was acquitted but the jury still had to return verdicts on four others, named in the Court of Appeal judgement as Riccardo Guthrie, Bianca Guthrie, Cosima Guthrie and Courtney Campbell.
The judgement, delivered by the Lord Chief Justice and two other judges, says that evidence began to amount of alleged attempts to influence the jury after the panel had already retired to consider verdicts.
It says that Sarah Lodge, a "former companion" of Cosima Guthrie, had been in "regular contact with a female member of the jury" in an alleged attempt to ensure the juror returned a not guilty verdict. Ms Lodge denied the allegation in police interviews.
As further details of the alleged contact emerged, Recorder English said she had no choice but to discharge the jury and continue the case alone, a decision she said was not taken "lightly or happily".
Backing the recorder's decision, the Lord Chief Justice said: "We cannot detect any unfairness or perception of unfairness in the recorder's conclusion that the pre-conditions to an order that the trial should continue without a jury were established, and that she should accept responsibility for delivering the verdicts."