'Sex texts' exposed wife's affair to husband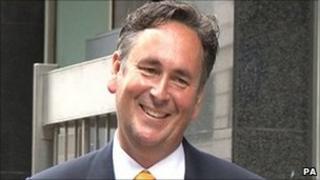 A millionaire City director texted sexually explicit photographs of himself with his PA, a court has heard.
Timothy Haynes also broke company rules by wining and dining his lover Leena Puddick on expenses, claimed the woman's husband, plumber Ian Puddick.
The 41-year-old from Enfield told City of Westminster Magistrates' Court he had found out about the affair after seeing messages on his wife's phone.
He denies harassing Mr Haynes by using the internet to publicise the affair.
Mr Puddick confirmed he had used Twitter and a host of websites to expose details of the affair but said: "I don't believe I was harassing him."
The websites, tweets and blogs he used were created in a bid to tell a narrative "detailing how a simple affair could end up with such a huge investigation", he added.
Lawyers believe the three-day hearing could help define the limits of free expression online.
BBC legal affairs correspondent Clive Coleman said the case "points up the issue of whether someone freely expressing themselves widely online can be guilty of harassment".
He added: "As with jurors using Facebook, and people tweeting details of privacy injunctions, the law and the internet are working out their growing and not especially comfortable relationship."
'Sensual girl'
Mr Puddick told the court he had been sunbathing in his garden listening to Radio 4 when a text message came through and his wife was inside.
"I shouted up 'you have got a text message'. Her reaction was 'don't touch my phone'," he said.
The message spoke of a sex act and added "you are such a sensual girl".
He also saw on the phone a photograph showing a sex act being performed in a bathroom.
Mr Puddick told the court: "We had only been married five minutes. I was absolutely devastated.
"My health deteriorated. Emotionally, it just knocked me for six."
He said he was in "complete emotional turmoil" after his wife confirmed in July 2009 that the affair had been going on for years.
"I spoke to Tim by phone," he said. "The objective of my call was to tell him to leave Leena. He told me it was none of my business and put the phone down."
'Never seen cocaine'
Mr Haynes, of Billingshurst, West Sussex, lost his job as a director at re-insurance firm Guy Carpenter as a result of his affair.
He admitted he had been "deceitful" but said Mr Puddick should have taken up his anger with him alone rather than launching a "campaign of harassment against him" by posting online lurid details of the affair.
The court also heard how Mr Puddick contacted a number of journalists about the affair, including associates of Max Clifford.
When asked why he had contacted them, he said: "It is a story in the public interest."
Mr Haynes said both he and his wife needed counselling after the "embarrassment and shame" of neighbours and colleagues receiving texts and phone calls.
"I think most of the country - thanks to the internet - is aware I had an affair," he added.
After he was arrested, Mr Puddick said City of London police officers had asked him whether he wanted to confess to taking cocaine.
But Mr Puddick denied the allegation, saying: "I had never ever even seen cocaine."
He said police had spent £1m investigating the harassment allegations.
"I cannot begin to tell you how disappointed I am with how the police have behaved," he said.
The case continues.