Newspaper review: Press target New al-Qaeda chief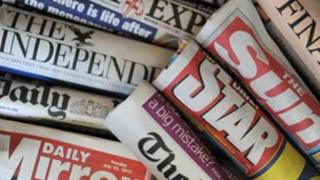 The announcement that Ayman Al-Zawahiri had succeeded Osama bin Laden as the head of al-Qaeda receives plenty of analysis in the newspapers.
The Independent questions whether the organisation's number two will be able to maintain its cohesion in the absence of bin Laden's leadership.
It describes Zawahiri as "notoriously fractious".
The paper says al-Qaeda has been marginalised by the Arab spring, which has left it isolated.
The Sun believes the fact six weeks has passed without incident since bin Laden was killed in Pakistan might signal there had been a power struggle.
The Daily Star speculates that Zawahiri will want to make his mark by targeting Prince Harry, who is returning to Afghanistan to fly Apache helicopters.
The Daily Mirror reports Harry will be given a secret identity in Afghanistan - to put the Taliban off his scent.
The Mirror quips he will be "the airman formerly known as prince".
The Financial Times says Britain's engineers have blown a "collective fuse" after they were branded on TV by Lord Sugar as failures in business.
Firing the latest candidate on The Apprentice, Lord Sugar declared he had never come across an engineer who could turn his hand to business.
Sir James Dyson, the inventor of the bagless vacuum cleaner who advises the government on innovation, tells the Financial Times: "It's a great pity because it's engineers that made Britain great".
There is much focus on the latest crisis gripping Greece.
The Daily Telegraph reports the International Monetary Fund is preparing to pump billions more euros into the stricken Greek economy.
The Telegraph expects a new bail-out package, the second in 13 months, to be agreed in the next few weeks - providing fresh cuts are introduced.
The Guardian says the IMF's hardline stance has forced Germany to shoulder the lion's share of the burden.
Berlin is said to be seeking to spread the pain - but to have been warned that the IMF would withhold urgently needed funds and trigger a Greek default, unless the Germans guaranteed the rescue.
The FT observes that in spite of moves by the IMF and the EU to reassure the markets, fears of contagion from the turmoil in Greece have sent Spain's borrowing costs to their highest levels in 11 years.
The Times quotes the leader of the Royal College of Nursing as calling for the worst-performing hospitals to be dismantled, merged and even closed if the NHS is to improve patient care and tackle the way the health budget is spent.
Peter Carter says that, in metropolitan areas, there are far too many acute hospitals - which are a "drain on the system".
He says it is time for ministers to make brave decisions and end the political taboo surrounding hospital closures.