UK government ban on UPS air cargo screening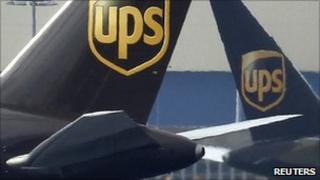 The government says it has barred parcel company UPS from screening air cargo at some facilities in the UK because of security problems.
The Department for Transport (DfT) has not revealed any specific security issues and said the ban would remain until the carrier "has satisfied current security requirements".
UPS said it was "working to address the problems" identified by the DfT.
A bomb was found last October on a UPS cargo plane at East Midlands airport.
The explosives were discovered after a tip-off and were not picked up by initial screening.
Investigators at East Midlands carried out a re-examination as a precaution and the bomb was found hidden in a printer cartridge posted in the Yemeni capital, Sanaa. The flight had been bound for the US.
A similar bomb was also found around the same time, on a FedEx plane in Dubai.
In the wake of these incidents, Home Secretary Theresa May banned unaccompanied freight flown to the UK from Somalia. Unaccompanied air freight from Yemen had already been suspended earlier in the year.
The move was based on possible contact between al-Qaeda in Yemen and Somali terrorist groups.
There was also a ban on ink cartridges weighing more than 500g in hand baggage on flights out of the UK and on cargo flights.
The only exception was if they originated from a regular shipper with security arrangements approved by the DfT.
Safety 'paramount'
And in March, a fake bomb was put on a cargo plane and flown from the UK to Turkey without being detected.
The UPS flight travelled to Istanbul with the package, reportedly containing a timer, wires and a detonator.
Whitehall officials say the current UPS security alert "does not represent an imminent threat".
A Department for Transport spokesman said: "The safety of the travelling public is paramount and our security regime is kept under constant review.
"We can confirm that, following careful consideration, the department has restricted the number of sites in the UK at which UPS Ltd are permitted to screen air cargo until it has satisfied current security requirements.
"For obvious security reasons we will not comment on the details."
Parcel delays
A UPS spokesman said: "As part of a scheduled review by the DfT of UPS procedures and employment documentation related to security, the DfT identified areas of concern that UPS now is working to address.
"Some facilities have been temporarily taken offline, which in some cases has led to delays in the movement of packages. UPS has activated contingency plans, communicated with customers and expects service levels to return to normal early next week.
"The DfT reviews have been helpful, educating UPS on the expectations of DfT auditors.
"UPS continues to assess the operation of its UK network and, in co-operation with the DfT, may refine it to ensure an even more efficient level of service to its customers."