Accused 'tried to be nuisance' towards wife's lover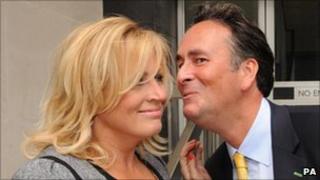 A plumber accused of launching an online campaign of harassment against his wife's lover was just trying to be "a little nuisance", a court has heard.
Ian Puddick, 41, admits detailing online his wife's affair with Timothy Haynes but denies harassing him.
Defence lawyer Michael Wolkind QC told the court Mr Haynes had been deceitful but his client could be trusted.
"All Ian Puddick tried was to be a little nuisance. The little nuisance value of the little man," he said.
Mr Haynes, from Billingshurst, West Sussex, alleges that an enraged Mr Puddick harassed him by posting lurid details of his affair with Leena Puddick via online blogs and videos, as well as on Twitter.
Mr Puddick, from Enfield in north London, admits he used Twitter and a host of websites to expose the affair but says it does not constitute harassment.
Lawyers believe the case may help define the limits of free expression online.
'Extreme arrogance'
In his closing speech at City of Westminster Magistrates' Court, Mr Wolkind said that Mr Puddick's websites were "screams of frustration and even screams of pain".
He described Mr Haynes as a "lying, deceitful and immoral man" and accused him of "extreme arrogance" in seeking to continue his affair with Leena Puddick after it was exposed.
"In contrast to Ian Puddick, Tim Haynes is a man whose evidence cannot be trusted at all," he said.
"We know that 'Team Tim Haynes' wanted to deal with things in their own way. They wanted to smooth things over, they wanted to move on. Ian Puddick was not compelled to do the same."
Tears
Mr Wolkind added that an alleged phone call from Mr Haynes' wife Annya after she learned of the affair was much worse than Mr Puddick's actions.
"Those phone calls were a disgrace and constitute conduct much worse than the person accused of the offence," he said.
Giving evidence earlier, Mrs Puddick, 36, broke down in tears as she described a phone call from a woman she was "absolutely sure" was Mrs Haynes, although Mrs Haynes denied it.
She said Mrs Haynes told her: "I hope you never have children, I hope you never get pregnant and, if you do, I hope that baby dies."
"A couple of weeks later I found out I was pregnant and unfortunately I had a miscarriage in the August," she said.
Mrs Puddick said she had been stressed and the phone calls from Mrs Haynes had made her more anxious.
Christmas party
Mrs Puddick told the court she and Mr Haynes first had sex after a Christmas party in 2002 after initially meeting when she had joined reinsurance firm Guy Carpenter in 1997. Mr Haynes was a company director.
He would often send her 30 to 40 text messages a day, she told the court, and would doctor expenses to pay for their wining and dining.
"I would ask him, 'What should I fill in?'. He would give me a client name."
Asked whether she knew it was wrong, Mrs Puddick told the court: "Absolutely. That was the culture."
Mrs Puddick said her husband learned of her affair in May 2009.
"It was a gorgeous day and my husband was in the garden," she said. "I remember being upstairs. There was a text message, then there was quiet and then Ian confronted me.
"To my shame I still tried to lie and cover myself at that point."
'Kept woman'
Mrs Puddick said after their affair had been exposed, Mr Haynes wanted to set her up in a flat.
"I felt that I would have been a kept woman," she said.
Asked if Mr Haynes would have wanted sex, Mrs Puddick said: "I am sure that was his intention."
She said Mr Haynes had also said he would support her if she was divorced and expressed sadness that their relationship was over, e-mailing: "Ignoring me is like the sun not rising."
Mrs Puddick said her employer had given preferential treatment to Mr Haynes when it investigated the affair.
"The company did not treat me equally with Mr Haynes," she said.
District Judge Elizabeth Roscoe's verdict is expected later on Friday.