Suicides on Britain's rail network 'reduced by 11%'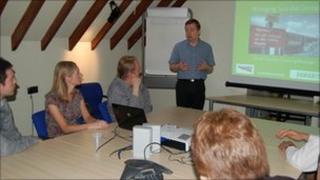 The number of suicides on Britain's rail network has dropped by 11% in the past year, according to figures from the Rail Safety and Standards Board.
They showed 207 deaths in the year from April 2010, down from 233 in the previous 12 months.
The rail authority said extra training for staff provided by the Samaritans had been a key factor in the reduction.
Last year, Network Rail set a target to reduce the number of suicides by 20% within five years.
"We know that rail staff who have undertaken the Samaritans' training programme have already been able to intervene in potential suicides," said David Higgins, chief executive of Network Rail, who own and operate Britain's rail structure.
"Each suicide is a tragedy for the individuals and families involved, as well as having an inevitable impact on rail staff and passengers."
The £5m investment in suicide prevention has seen 1,000 staff at 220 locations receive specialist training.
As part of the campaign, Samaritans has interviewed staff members affected by suicides, as well as experts on dealing with trauma.
Rail workers are taught how to identify people potentially at risk, before approaching them and offering emotional support services.
The training also deals with emotional trauma for drivers who have been involved in a death, many of whom suffer from flashbacks and sleeplessness after the incident.
Members of the general public who have witnessed a suicide can also take advantage of help from the Samaritans who offer face-to-face advice and a helpline.
In addition, media companies have been given guidance over how to report suicides in order to prevent copycat deaths.
An awareness campaign has sought to target those typically most prone to suicide attempts.
Nearly 80% of rail suicides involve men, with "working-class men" in their 30s, 40s and 50s statistically most at risk, the Samaritans said.
Prominent advertising and poster campaigns around stations have been aimed at these groups.
"We are pleased to see that, within the first year of delivering the project we already have examples of staff being able to intervene in potentially tragic situations," said Rachel Kirby-Rider, director of fundraising and communications at the Samaritans.
"Whilst the latest railway suicide figures are promising, the next few years could see rising unemployment and an increase in financial worries which may negatively impact on the nation's wellbeing," she said.
"We cannot afford to be complacent and that is why this programme of work shows our commitment to ensuring the figures decline year on year."