Puddick cleared of harassing wife's lover on internet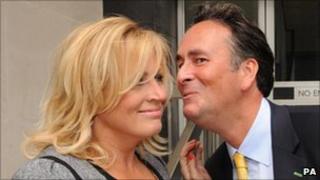 Plumber Ian Puddick has been cleared of internet harassment after tweeting and blogging details of his wife's affair.
Mr Puddick, 41, hailed it as "a victory for free speech and the small man", following the verdict at City of Westminster Magistrates' Court.
He had tweeted, blogged and posted videos online after being enraged by his wife's 10-year relationship with company director Timothy Haynes.
Lawyers think the case may help define the limits of free expression online.
There were cheers from the public gallery and Mr Puddick shook his fist and smiled as District Judge Elizabeth Roscoe delivered not-guilty verdicts on two harassment charges at the end of a three-day trial.
Accompanied by his wife Leena, he said: "For the last 12 months this has taken over my life. Purely and simply there has been an abuse of power. If this can happen to me it can happen to anyone.
"It is absolutely a victory for free speech and the small man. I'm a plumber and drive around in a Transit."
Mr Haynes, from Billingshurst, West Sussex, had a 10-year affair with Leena Puddick, which was exposed after her husband read a text message on her mobile phone in 2009.
'Little nuisance'
The court heard details of e-mails and text messages that Mr Haynes had sent her over the course of their affair.
Mrs Puddick told the court she and Mr Haynes first had sex after a Christmas party in 2002 after initially meeting when she had joined reinsurance firm Guy Carpenter in 1997. Mr Haynes was a company director.
He would often send her 30 to 40 text messages a day, she told the court, and would doctor expenses to pay for their wining and dining.
Mr Haynes lost his job as a director at re-insurance firm, Guy Carpenter, as a result of the affair.
He admitted he had been "deceitful" but said Mr Puddick should have taken up his anger with him alone rather than launching a "campaign of harassment against him".
But on Friday, defence lawyer Michael Wolkind QC, representing Mr Puddick, said: "All Ian Puddick tried was to be a little nuisance. The little nuisance value of the little man."
Mr Haynes said both he and his wife needed counselling after the "embarrassment and shame" of neighbours and colleagues receiving texts and phone calls.
BBC legal affairs correspondent Clive Coleman said the case "points up the issue of whether someone freely expressing themselves widely online can be guilty of harassment".
He added: "As with jurors using Facebook, and people tweeting details of privacy injunctions, the law and the internet are working out their growing and not especially comfortable relationship."