Newspaper review: Press focus on pensions war of words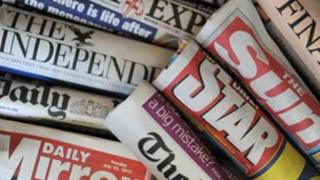 There is a whiff of testosterone in the air - as the war of words between the unions and the government appears to be hotting up over public sector pensions.
The Financial Times believes this may be the most serious outbreak of trade union militancy Britain has seen for more than two decades.
"Biggest strike for 100 years" is the headline in the Guardian as the leader of Unison, Dave Prentis, says they are prepared for indefinite, rolling action. His words follow Danny Alexander's speech on Friday.
The Chief Secretary to the Treasury, Danny Alexander, said public servants would have to work longer and pay more for their pensions.
Matthew Parris, in The Times, says the mood in the coalition government "may be something approaching an appetite for this scrap".
The Guardian believes the government is not so much trying to declare war but trying to retain its political grip.
The Independent warns the unions to be careful to pick their battles.
Soaring energy, food and petrol prices will cost the average family almost £900 this year, says the Daily Mail.
It says the last time earnings rose by less than prices for four years in a row was in the 1870s.
The Daily Express says car insurance has shot up by 30% because of a surge in personal injury claims.
The Daily Telegraph says Scottish Power chairman Ignacio Galan has had his pay doubled as the company's customers facing a big rise in gas prices.
There is widespread coverage of the case of a Lancashire shopkeeper who was arrested after he caught a teenager stealing grapes and drove him home.
Ten months later, a judge in Burnley has ruled that it is not in the public interest to proceed with charges of false imprisonment against Owais Dar.
The Sun claims the police fail to see crime from the victim's point of view.
The Express says Britain cannot create a "Big Society" while public-spirited citizens are treated with such disdain.
Many papers use a striking image of a young couple embracing on the ground against the backdrop of the Vancouver ice hockey riot.
At first glance, they seem oblivious to the fiery chaos around them.
But, The Guardian tells us, it now appears the girl was knocked over by riot police and her boyfriend was simply trying to comfort her.
The Sun's headline is: "Kiss me... Riot here, Riot now", a play on a song title.