The Archers: First script is up for auction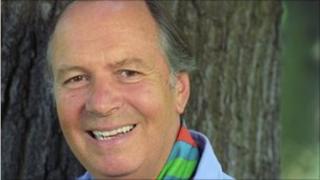 A script from the first episode of the long-running BBC radio drama, The Archers, has been put up for sale.
The little piece of Radio 4 history - belonging to Charles Collingwood, who plays Brian Aldridge - has been valued at £3,500 by Sotheby's.
The first episode was broadcast on 1 January 1951 but no recording exists in the BBC Archives.
Mr Collingwood says he is selling the script, bought for £20, to help pay for his daughter's wedding.
Sotheby's say it is the first time an Archers script has come up for auction.
'Few bob'
The script reveals that Dan Archer had the opening line: "And a Happy New Year to all". In the course of the episode, Dan's son Phil kisses their neighbour Grace and argues with his brother Jack.
Dan's wife Doris was played by Gwen Berryman and it is her 11-page script that will be sold at auction.
She died in 1983 and soon afterwards Mr Collingwood received a phone call from a second-hand book dealer in Torquay, where Ms Berryman had been living.
Among the memorabilia was her script from the first episode and Mr Collingwood said he paid "not more than £20" for it.
He put it in a cupboard and forgot about it until this year. He said with all the publicity surrounding the programme's 60th anniversary, he thought it would be a good time to sell.
Mr Collingwood, who joined The Archers in 1975, told BBC Radio 4's Today programme: "Realising it was our 60th anniversary, I thought this would be a good time to let somebody else have it who would probably appreciate it more than me."
He said Ms Berryman was the "Queen Mother of The Archers" and her script would appeal to the show's loyal fans.
He said it was going to be auctioned on 14 July, and he hoped to make a "few bob" out of it.
"Last week I had to pay for my daughter's wedding and unless I get a lot of money, I will be selling pegs," he added.