Overseas aid spend is woefully short, says archbishop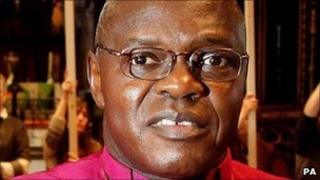 The Archbishop of York has said the UK's spending on overseas aid is "still woefully short of what is needed".
In the Yorkshire Post, Dr John Sentamu said he wanted "the British values of justice and fair play" to "shine around the globe for all to see".
He backed David Cameron's pledge of an extra £814m for a vaccination programme for the world's poorest children.
The government's overall aid budget has been ringfenced, causing controversy at a time of domestic austerity.
'Not either/or'
The Anglican archbishop said the UK was an important part of a global community.
"I would like to ask you a question: 'What should be our top priority, the life of a child suffering from poverty in the UK - or the life of a child dying from a preventable disease in Africa?'," he said.
"The answer is, of course, that each life is equally valuable in the sight of God, and the language of 'top priority' is misplaced.
"I am concerned at how the recent debate about global poverty seems to have been reduced to a discussion about whether we should bother helping those in poverty overseas when we have our own problems to address at home.
"It is not an 'either/or' question - we should be funding initiatives to tackle both."
He acknowledged the UK spends 0.7% of its GDP on foreign aid programmes, which was more than most other developed nations provide, but he said it was still "woefully short".
"Providing aid to those in need, wherever they live, is not about feeling good about ourselves," he said. "It is not about pretending we are a global superpower or a moral policeman either, it is about justice."
Last week, Prime Minister David Cameron pledged £814m to help vaccinate children around the world against preventable diseases like pneumonia.
He made the announcement at a global fundraising summit in London, and the £814m ($1.3bn) comes on top of the UK's existing commitment of £680m between 2011 and 2015.
Mr Cameron said there was a "strong moral case" for keeping pledges Britain had made to the developing world, no matter the economic circumstances at home.
The Department for International Development's overall £7.8bn budget has been unaffected by the government's deficit-cutting measures.
International aid is one of only a handful of areas, including health spending in England, being ringfenced from spending cuts over the next four years.
The 62-year-old archbishop, who was born in Uganda and was the sixth of 13 children, added that "we should unite behind" what International Development Secretary Andrew Mitchell is trying to do "in the face of widespread opposition".
"Regardless of which side of the political divide we may traditionally sit, the battle to end poverty is too important to be sidetracked by the cynicism of others," he said.