Two Britons die in south of France plane crash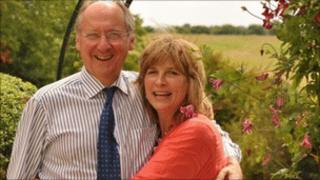 A British couple have died in a light plane crash in the south of France.
James Balmer and his ex-stuntwoman wife Jacqueline are understood to have been flying from Italy to Troyes, 80 miles south-east of Paris, when they crashed.
Wreckage from the plane, which had been piloted by Mr Balmer, from Cirencester, Gloucestershire, was discovered on Mont Agel, north of Monaco, on Friday.
A Foreign office spokesman said next of kin had been informed and consular assistance was being provided.
High mountain patrol
According to local reports, the twin engine Piper PA-39 had taken off just after 0900 BST (10am local time) on Friday but lost all radar contact at 1028 BST (1128 local time).
French news reports said a witness had reported a plane flying at "very low altitude" at around midday and alerted the emergency services.
The region was blanketed in fog at the time, which reports suggested could have forced the six-seater aircraft to fly "very low" before it crashed on private property at an altitude of 814m (2670ft).
French authorities launched a sea and air search operation, using helicopters and a naval minesweeper.
The wreckage was located after a four-hour search on Mont Agel at around 1440 BST (1540 local time), a spokesman for the Nice-Montagne prefecture said.
A high mountain patrol was sent to the area to recover the bodies of Mr Balmer, 68, and his wife, 54. They were taken to a forensics laboratory in the nearby city of Nice.
Their nationality was established through information stored on their mobile phones, French officials said.
Under the name Jacquie de Creed, Mrs Balmer performed car stunts including driving a car on two wheels.
According to her website, in 1983 she jumped a car "further than any man or woman in history" breaking the Long Distance Car Ramp Jump Record.
She also worked as a presenter and after dinner speaker.
The couple's daughters Charlotte and Lucy Balmer told the BBC: "Mum and dad were such wonderful people.
"They were loved by so many and will be greatly missed by everyone who knew them.
"They had been celebrating their wedding anniversary on the Thursday before they left."