Newspaper review: Front pages focus on political moves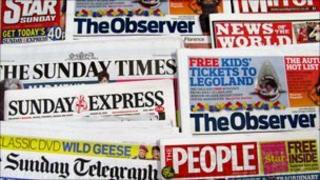 A variety of political developments provide a focus for the front pages of the papers.
The Sunday Times says David Cameron is getting ready to circulate to ministers his "big society bill" and give "power to the people".
"Personal budgets" will usher in a "sweeping overhaul" of the way public services are delivered, it reports.
But the Sunday Express does not appear to have confidence in the PM's plans to reform public services, with a cartoon on its comment page showing Mr Cameron crossing out his manifesto pledges and saying "change that, change that, change that".
War chest
The shadow chancellor Ed Balls accuses ministers of seeking confrontation with the unions over public sector pension reform, in a Sunday Mirror article.
The Observer, meanwhile, claims the Treasury is backtracking on its plans to change public sector pensions.
An official says plans were announced but were not "concrete policies".
The Independent on Sunday reports that Britain's biggest public sector union, Unison, has a £30m war chest to cope with a wave of strikes over the issue.
'No crisis'
In a Sunday Telegraph article, the prime minister says fathers who abandon their families should be "stigmatised" in the same way as drink-drivers.
Meanwhile, in an Independent on Sunday interview, Labour leader Ed Miliband says there is "no crisis" in the party.
Retired senior military commanders have written a joint letter to the Sunday Telegraph about defence budget cuts.
They say they are endangering the security of the UK, its relationship with the US and the future of Nato.
Documents seen
No longer under house arrest, the Independent on Sunday interviews Aung San Suu Kyi on her 66th birthday.
The Burmese pro-democracy campaigner says she rarely ventures out because the military continue to monitor her.
The Observer says it has seen documents related to the siege in Misrata, Libya, that could form evidence in a war crimes case against Colonel Gaddafi.
The News of the World says Cheryl Cole will no longer be a guest at a royal dinner in Hollywood during the Duke and Duchess of Cambridge's visit to the US next month.