Mobile firms can trade spectrum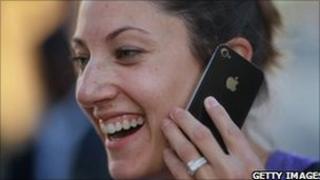 UK regulator Ofcom has given phone operators the green light to trade spectrum in a move intended to increase mobile network capacity.
Available bandwidth is becoming a huge issue as smartphones put increasing demand on networks.
The trading of airwaves comes ahead of a crucial spectrum auction next year that will usher in 4G data services.
Both the auction and the decision to allow operators to trade existing spectrum have caused controversy.
Spectrum trading allows operators to sell off the airwaves they own in the 900MHz, 1800MHz and 2100MHz frequency bands.
Historically the 900MHz slice of spectrum has belonged exclusively to O2 and Vodafone because they were the only two mobile operators on the market when it was handed out.
While other nations have reallocated this spectrum to offer a more level-playing field ahead of 4G auctions, this has not happened in the UK.
Ofcom had originally planned to redistribute the spectrum allocated to O2 and Vodafone, but was met with a legal action, initiated by the two operators.
Lifeblood
Ofcom dropped its plans following the merger of T-Mobile and Orange.
Everything Everywhere (EE), the parent company of T-Mobile and Orange will be the biggest beneficiary of spectrum trading.
It was required to sell off about 19 percent of its spectrum frequencies as a condition of the merger.
Three is unhappy as it has the least spectrum to trade.
"Spectrum is the lifeblood of smartphones and the mobile internet and for those with surplus holdings it is also a strategic asset, so voluntary trading is the exception," it said in a statement.
"This move simply allows those who have been gifted access to public spectrum to profit from it, with no benefit for UK taxpayers."
Three will voice its concerns later today at a Department of Culture select committee hearing set up to discuss the way spectrum is being allocated.
Further delays
O2 and Vodafone are unlikely to sell off any of their assets, according to Matthew Howett, an analyst with research firm Ovum.
"It is simply too valuable to them and they would only trade it if they were forced to," he said.
What may force their hand is the upcoming 4G auction in which Ofcom has set caps on the amount that can be bought.
It will mean the operators with more existing spectrum will be able to buy less of the more valuable 4G airwaves.
Ofcom has also ring-fenced some of the spectrum for new entrants such as Three.
"It has done this because it recognised that 3 might not be able to survive and it values the disruptive nature of a player like 3," said Mr Howett.
But O2 said it was tantamount to "state aid" and has threatened legal action.
Any further delays to the auction could put the UK behind other European countries in the roll-out of 4G services, said Mr Howett.
4G will be crucial as the market continues to grow.
According to Ofcom there are now 80 million mobiles in the UK, 12.8 million of which are smartphones.