Newspaper review: Papers question US troop pull-out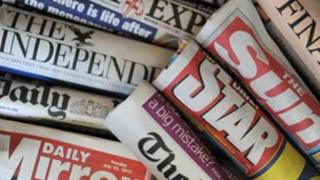 "By announcing a timetable to withdraw 33,000 troops from Afghanistan by next summer, President Obama has taken a considerable gamble," says the Daily Telegraph.
It believes his timing will inevitably lead to accusations he is hoping to boost his prospects of re-election.
The Times calls it "the right strategy at the wrong pace".
The paper says the move incurs the risk it will be misinterpreted by Afghans and the Taleban as a sign of weakness.
Death penalty
The main story in the Daily Mail and Daily Mirror is the conviction of Levi Bellfield for the murder of Milly Dowler.
In an editorial, the Daily Express says the killer deserves to be hanged.
"Seldom has there been a specimen of humanity so evil and so completely shorn of redeeming features," it says.
An editorial in the Sun criticises what it calls "unforgivable bungles" by the police in the hunt for the schoolgirl's murderer.
European dream
As the haggling over what to do about Greece goes on, the commentators think they know where it is all heading.
According to the Guardian's Martin Kettle: "The nationalists have won - Europe's dream is over."
Frederick Forsyth in the Daily Express believes we have seen what must surely rank as the final proof of the failure of the founding philosophy of the EU.
Peter Oborne in the Daily Telegraph talks of the debt crisis "wrecking the European dream".
Roaring lions
The Guardian and Daily Express lead with reports that eating an ultra low-calorie diet can cure Type 2 diabetes, at least temporarily, in eight weeks.
Eleven people took part in the trial, and researchers at Newcastle University describe the results as "remarkable".
Roaring lions are pictured on the front of the Independent.
This is a reference to the Commons vote in which MPs backed a motion calling for a ban on wild animals in circuses in England.