'It's not their estate, it's our estate'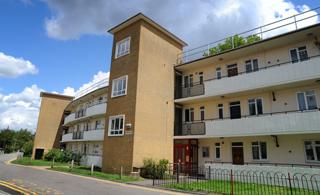 New council house tenants in England will no longer have the right to a "home for life". The hope is to get millions of struggling people off waiting lists and into homes, but what will these short-term tenancies mean for tight-knit communities on stable estates?
The Weir Estate appears to be just the kind of place where there is much of which its tenants can be proud - and much also, they say, to lose.
With a mid-morning peace disturbed only by the squeals of playing children and neighbours' warm greetings as they walk litter-free streets and well-kept lawns, it would defy many people's expectations of a south London council estate.
"This estate is used as a prime example across the borough of what estates can be like," says Dave McEvoy, chair of the Weir Estate Residents Association.
Built in 1952, the estate looks good for just short of 60 - in large part because of the coat of paint and new front doors and windows the flats received from the council a couple of years ago.
The residents association played an active role in organising those renovations, straight off the back of its work creating a community centre where a laundry building had stood derelict for more than 30 years.
The Weir Link Community and Children's Centre - a registered charity managed by local people - is now "the heart of our community", says Mr McEvoy. "I always call it our Queen Vic."
"It's lovely on this estate," says Ellen Hawkes, 76, who lives with her husband, Tom, and their dog, Pippin. "The people around me, they are so kind, they are so lovely.
"When there is snow on the ground, they knock on your door to ask if you want any shopping done. I couldn't wish for a nicer lot of people."
Greater mobility
But with five million people in the UK languishing on waiting lists for estates like this one, the government says the system is failing too many people who need the support of social housing. It believes there must be greater mobility in the public housing sector if it is to continue to protect the most vulnerable in society - and wants to do away with the principle of a "council house for life" in favour of fixed-term contracts.
Critics say reduced stability and security, and increased transience, for vulnerable people who rely on the state to provide a home, will devastate individual lives and wider communities.
In fact, Mr McEvoy and Mrs Hawkes, both claim the Weir Estate, and its community spirit, may have saved their lives.
Mr and Mrs Hawkes arrived seven years ago, after their son took his own life and they needed to escape the reminders of him in a home where they had spent almost 50 years.
"I never thought I would ever get better," says Mrs Hawkes, who was admitted to hospital with mental health problems following her son's death.
"Moving on this estate, I did get better. That's the only reason I got better, was moving on the Weir Estate - it kept me alive."
Mr McEvoy's story is not dissimilar: the former police officer had suffered a breakdown owing to family and work stress, had to give up his job and was hospitalised, and had even attempted suicide.
Moving onto the estate four years ago offered a "lifeline", says the 29-year-old. "If I didn't have the residents association and my role in the community, I... probably wouldn't be here."
He adds: "It's a fantastic community to be a part of, and I think the key is people working together, coming out of their homes, not having that doorstep mentality, knowing your neighbours."
'What's the point?'
One or two homes on the Weir Estate are still occupied by tenants who have been there since its earliest days - such as George and Pat Broderick, both now in their 80s, who have been in their home about 57 years.
"We have always enjoyed ourselves being here," says Mrs Broderick. "We try to keep the place clean and tidy, and do what we can to help out."
Council house tenancies are soon set to be measured not in decades but in years - usually a minimum of five years, but possibly as few as two years in rare cases. These conditions are part of the social housing reforms introduced by the government.
Tenants will be able to swap homes as part of a national scheme. Others whose circumstances are deemed to have improved sufficiently could be forced to move out at the end of their tenancy.
While existing residents will continue to be guaranteed a home for life, some fear the effects of the new fixed-term tenancies on the neighbourhood around them.
A worried Mr McEvoy says: "You will see a return to run-down housing estates because there will be no point somebody like me going out, trying to encourage residents to get involved, when their mentality is: 'What's the point? I am going to be leaving in two years anyway.'
"It's already hard enough to encourage people to come out and get involved," he adds. "People will withdraw even more into their homes. We will lose the ethos of taking pride in where you live.
"It will become a place where nobody knows each other."
"I'd take my bag in, I wouldn't unpack it," says Mrs Hawkes. "If they put me in a flat for two years I wouldn't unpack."
Real big society
But the government rejects the notion that fixed-term tenancies will break up stable communities and lead to estates being run down. It says councils will have the flexibility to choose how long tenants can stay.
"Under our reforms landlords will have the flexibility to offer the tenancies of a length best suited to meet the needs of their new tenants and their communities," says a spokesperson for the Department for Communities and Local Government.
"Where a council or a housing association is aware that one of their estates benefits from having a well-established and close-knit community, they may want to offer any new tenant moving there a life-time tenancy. This factor can be taken into consideration alongside others, including the needs of the tenant and as part of the management of their housing stock."
But residents of the Weir Estate remain sceptical. They want to be in control of their destinies, rather than trusting that to Lambeth, the council which owns this estate.
"I don't see this as a Lambeth housing estate, I see it as our estate," says Mr McEvoy. "You cannot establish a big society if it is unstable - that should a person's situation improve, they move. We should be focusing on improving homes and encouraging people to set down roots within the areas they live.
"I always say it is the 'real big society'."