Questions over Sheikh Raed Salah's UK ban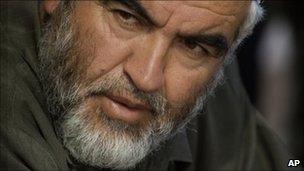 Sheikh Raed Salah, now in custody as he awaits deportation from the UK, is the latest of several clerics and preachers whom the home secretary has banned from entering the country.
The Israeli-Arab sheikh is the thrice-elected mayor of Um al-Faham, an Israeli city with a majority Arab population. He is also leader of the northern branch of the Islamic Movement, which is opposed to the 1993 Oslo peace accords advocating a two-state solution to the Israel-Palestinian conflict.
Although the Islamic Movement is not banned in Israel, it is closely aligned to Hamas, which is designated in the UK and mainland Europe as a terrorist organisation.
However, that would not have been sufficient for Home Secretary Theresa May to ban the sheikh. Some of those due to host him at his various speaking engagements are themselves open supporters of Hamas.
The Home Office has refused to elaborate on exactly why Sheikh Salah's presence has been judged "not conducive to the public good".
However, before becoming prime minister, David Cameron stressed that it was important to challenge the "extremist mindset" and that he thought a lack of understanding about its make up was "more widespread".
Sheikh Salah's Islamic Movement is reported to have mourned the death of Osama Bin Laden, calling him a "martyr" and his killers "Satanic".
While British law entitles such a view to be expressed, it could weigh as a factor in denying entry to a non-British citizen.
Another consideration may have been an article that Sheikh Salah wrote three weeks after the 9/11 attacks, in which he said that unlike Muslim workers in the World Trade Center, Jewish workers had been absent on 9/11.
"Were 4,000 Jewish clerks absent by chance, or was there another reason?" he asked, alluding to a conspiracy theory that is still advanced by some extreme groups that the Israeli secret service Mossad - not al-Qaeda - was behind the attack that killed nearly 3,000 people.
Although similar 9/11 conspiracy theories have been found to be not uncommon within some Islamist groups in Britain, this could also have counted against Sheikh Salah.
He is also reported to have made a speech in February 2007 during a protest in East Jerusalem in which he accused Jews of using children's blood to bake bread - allegations the sheikh strongly denies.
The Israeli paper Haaretz said that while addressing a 1,000-strong crowd and assembled press, Sheikh Salah said: "We have never allowed ourselves to knead [the dough for] the bread that breaks the fast in the holy month of Ramadan with children's blood.
"Whoever wants a more thorough explanation, let him ask what used to happen to some children in Europe, whose blood was mixed in with the dough of the [Jewish] holy bread."
The "blood libel" that Jews murder children to use their blood during religious rituals has been a recurring theme of extremist rhetoric in the Middle East.
However a statement issued by the sheikh's office earlier this month dismissed the allegations "an absolute lie and a malicious fabrication".
The statement continued: "Mr Salah was arrested and questioned over these allegations in Israel and released when they were revealed as being wholly fabricated with no evidence.
"Mr Salah told the Israeli authorities: 'My belief is that no divinely-inspired religion ever sanctions the shedding of children's blood; likewise, no adherents of any religion should sanction the killing of children in Palestine or anywhere in the world.'"
Sheikh Salah has been acquitted of charges in connection with rioting that followed the speech. However, sources insist charges relating to incitement to racism are still outstanding and are due to be heard next spring.
One of his UK hosts, the London-based Middle East Monitor - a pro-Hamas publication - say the sheikh has told them no charges were brought against him "in this regard".
Sheikh Salah's supporters in Britain include the radical Palestine Solidarity Campaign (PSC), which has promoted an annual march attended by supporters of the Iranian Hezbollah group and Hamas and which has also given a platform to the extremist Hizb ut-Tahrir group.
The PSC's director Sarah Colbourne says Sheikh Salah is "opposed to all forms of racism", including anti-Semitism and Islamophobia.
The sheikh had been due to attend a House of Commons meeting on Wednesday evening along with Labour MPs including Jeremy Corbyn, Richard Burden and Yasmin Qureshi.