Briton challenges wife and baby murder verdicts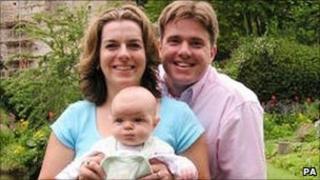 A British man jailed for life in the US for shooting dead his American wife and baby daughter has filed an appeal against his convictions.
Neil Entwistle, 32, of Worksop, Notts, was convicted in 2008 of murdering wife Rachel, 27, and Lillian Rose in 2006.
His lawyer says evidence was illegally seized and should have been suppressed and that jurors may have been biased by media coverage of the case.
Prosecutors said Entwistle had received a "true and just" trial.
Entwistle, a former IT consultant, fled to the UK the day after the murders at the family's Massachusetts home in January 2006.
In the appeal brief, filed at the state's Supreme Judicial Court, lawyer Stephen Paul Maidman argued that two home searches by police were carried out without warrants and that the evidence seized should have been suppressed during the trial.
He also argued that the judge did not thoroughly question potential jurors to identify any bias against Entwistle after intense international news coverage of the case.
A request from Entwistle to move the trial out of Middlesex County was denied by the judge at the time.
'Unspeakable acts'
"That there was extraordinary prejudicial pre-trial publicity in this case that was both saturating and inflammatory, by Massachusetts and even national standards, cannot be legitimately disputed," Mr Maidman wrote.
"The defendant is entitled to a new trial utilising a jury selection process where there can be no question that the seated jurors are fair and impartial."
Middlesex district attorney Gerry Leone, whose office prosecuted the case, said in a statement: "The crimes committed by Neil Entwistle against his wife Rachel and daughter Lillian Rose are to be condemned as horrific and unspeakable acts.
"He received a commendable defence and a fair and just trial under our laws."
Prosecutors have said police were justified in entering the Entwistle family home because they were responding to the pleas of concerned relatives and friends.
They say at the time of the murders, Entwistle had become despondent after accumulating tens of thousands of dollars in debt and had complained about his sex life with his wife.
Jurors rejected Entwistle's defence that his wife had killed their baby before turning the gun on herself, and that Entwistle had covered it up to "protect her honour".
The couple met through a rowing club when Mr Entwistle was studying at the University of York.
They married in 2003 and moved to the US shortly after their daughter was born. Mr Entwistle was said to have been looking for a job in the US.
Mrs Entwistle taught at St Augustine's Catholic School in Redditch, Worcs, between 2002 and 2005.