750,000 Olympics tickets sold in 'second chance' round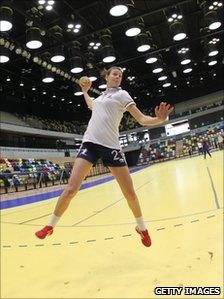 More than 750,000 tickets for next year's London Olympics have been sold to 150,000 people in phase one of the "second chance" sales round.
Phase one, which closed at 1800 BST on Sunday, was open to those who did not receive any tickets in the first round sale earlier this year.
Over 3.5 million Olympic tickets have now been sold, organisers say.
More tickets will go on sale between 8 and 17 July to 700,000 applicants who were successful in the first round .
The only sports for which tickets are still available are football, volleyball and freestyle wrestling, the London Organising Committee of the Olympic and Paralympic Games (Locog) said.
About 1.5 million tickets remain for men's and women's football matches at Wembley Stadium, City of Coventry Stadium, the Millennium Stadium in Cardiff, Hampden Park in Glasgow, St James's Park in Newcastle and Manchester's Old Trafford.
About 40,000 volleyball tickets are available for men's and women's volleyball sessions at Earl's Court
Some 8,000 wrestling tickets at Excel are also available.
Locog commercial director Chris Townsend said: "We now have at least 150,000 more successful applicants - and they and their friends and families are now going to the Games.
"Our goal is to get as many members of the British public to the Games as possible, and we have sold over 750,000 tickets to people who were unsuccessful in the first round."
The current system has attracted criticism from various quarters - including from consumer group Which? - for taking the cash from applicants' bank accounts before they know which tickets they have been allocated.
Fewer than half of those who applied got tickets in the first round, as demand outstripped supply in many events. In the men's 100m athletics final more than one million tickets were requested.
There has also been criticism of the number of tickets held back for corporate sponsors but Lord Coe, Locog chairman has defended the system and said the corporations "pay for the Olympics".
Related Internet Links
The BBC is not responsible for the content of external sites.