BBC journalists due to strike in July over jobs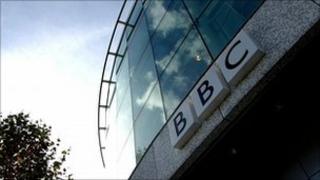 Journalists at the BBC are to hold two 24-hour strikes on 15 and 29 July over compulsory redundancies, the National Union of Journalists (NUJ) has said.
Last month, its members voted to take industrial action after bosses dismissed a World Service journalist on the grounds of compulsory redundancy.
The NUJ urged the BBC to conduct the redundancy process in "a humane way".
The BBC said it was "disappointed" by the action which could affect news on radio, television and the website.
In the ballot, just under 40% of union members voted, with 72% saying they would be prepared to strike.
'Humane and fair'
A small number of people working in the World Service and BBC Monitoring were facing compulsory redundancy this summer, the NUJ said.
Union general secretary Michelle Stanistreet said: "We know that there are hundreds of people who want to leave the BBC and who have been denied that chance.
"Yet at the same time people are now being targeted and forced out of the door. We merely want the BBC to manage the redundancy process in a humane and fair way."
The BBC's director of operations Lucy Adams said the number of posts had to be reduced by 387 following significant cuts to central government grants supporting the World Service and BBC Monitoring.
'Impossible to avoid'
She said: "We continue to do all we can to mitigate the number of compulsory redundancies by offering voluntary redundancy and redeploying staff elsewhere.
"However the number of posts that we are having to close means that unfortunately it is likely to be impossible for us to avoid some compulsory redundancies."
Both the BBC and the NUJ said they hoped to avert action through talks.
BBC journalists went on strike last November over planned changes to their pensions.